Saturday June 8 2019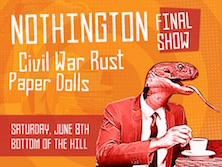 8:30PM

doors -- music at 9:00PM


••• ALL AGES




$

12

in advance

/ $14

at the door


Nothington


FINAL SHOW!!!


www.nothington.com/


Punk


Civil War Rust
www.facebook.com/civilwarrust/


Punk Rock & Roll


Paper Dolls
www.facebook.com/paperdollsca/


Pop Punk




---

Nothington
Jay Northington – Vocals + Guitar
Chris Matulich – Guitar + Vocals
Ryan Donovan – Bass + Vocals
Luke Swarm – Drums
-from San Francisco, CA
-Nothington formed a decade ago out of the wreckage of some Bay Area punk acts. Maybe you've heard of the bands Tsunami Bomb or Enemy You, or maybe you have not. It's not especially relevant to Nothington's story, because these guys have done so much more with this project and dedicated every bit of their guts into this band. They called their first record, All In, and that pretty much sums it up. Now take a look at these boys in 2017: relentless as all hell and back with their first new album in over five years, In The End.
It started out with humble beginnings—as all worthy bands do—a few kids in San Francisco that wanted to be a part of something. See, back in the early 2000s, there was a good punk scene in SF with plenty of bands from all subgenres of the underground. Before the $8,000 rents of today there were all sortsa weirdos and punks working at shitty jobs making art and music... and Nothington was right in the thick of it. It began as Jay's band, but he was soon joined by Chris, and the two have remained a potent axis throughout the years. They put out a 7" on a friend's label, then were immediately snatched up by venerable punk label, BYO Records (7 Seconds, Bouncing Souls, Youth Brigade, etc.). Singer/Guitarist Jay had a whiskey-soaked swagger they admired and they appreciated how the band melded classic and tasteful influences like Leatherface and Social Distortion.
It was clear from the very beginning that these gritty anthems were connecting with audiences and the band received a great response from listeners and peers alike. They were offered tons of tours, invited on Warped Tour, and even went on to play Europe. They hit the road and developed a synergy that is evident on their sophomore release, Road, Bridges, & Ruins. Here we saw the rise of co-vocalist, Chris Matulich, who brought melody and nuance to their sound, and made them contemporaries with bands like Gaslight Anthem and The Menzingers.
In 2011 the band jumped to Chicago label, Red Scare, for the release of their third album, Borrowed Time. This was a breakout album and by this time they were so popular in Europe that they were frequently making transatlantic trips and were getting tour offers from mainstream bands. But all the while Nothington stayed diligent to their craft and loyal to their core audience: the outsiders who sing along with beers held high. After playing a thousand sweaty shows and the occasional spurt of activity in the form of a 7" or a tour with The Lawrence Arms, the band went into hibernation. The guys needed to catch their breath, catch up with friends, and catch up with adulthood. Time passed, songs were written, and the unyielding quartet went into Motor Studios (Propagandhi, Dead To Me, etc.) to capture the next epic chapter in their saga: the 11 songs of In The End. As always, massive touring to follow.






Civil War Rust
Sean, Ryan, Steph,
K.T. Lang, and Shrum
-from Oakland, CA
-Hi! We are Civil War Rust from Oakland.
Things we enjoy... Pop Punk from the 90's, Burritos, Touring, Recording & Dive Bars from the 90's.
" Pop punk can't get anymore perfect. "




Paper Dolls
Alex / Andy / Matt / Mikey
-from Oakland, CA


-Started in 2012, in a Gainesville apartment right behind Leo's By The Slice. We had 2 practices, looked each other dead in the eyes and said, "Fuck yeah." We recorded a demo and hit the road for 10 days. Our first show was our first day of the tour. Now, after a few years of changes and growth, Paper Dolls have matured and reformed in Oakland, CA with members from Long Knives, Druglords of the Avenues, and Belle Reve. In mid-2017 we jumped back into the studio and recorded our long overdue EP, Bad at Goodbyes.