Saturday June 15 2019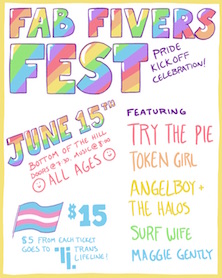 7:30PM

doors -- music at 8:00PM
••• ALL AGES


$15
Fab Fivers Festival, A Pride Kickoff Celebration
Where $5 from every ticket goes to Trans Lifeline
Try The Pie


www.facebook.com/trythepie/


punk folk


Token Girl


www.tokengirlmusic.com/


progressive soul


Angelboy + the halos
www.facebook.com/Angelboy-the-halos-2459457880944981/


diy emo indie pop


Surf Wife


(from

Scrim

)


soundcloud.com/surf-wife


...


Maggie Gently


~

Maggie Grabmeier


www.facebook.com/maggiegently/


pop punk



---

Try The Pie


-from San Jose, CA


-Try the Pie is a solo effort by Bean Tupou. Their first full length record, "Domestication", was released on Salinas Records in Spring of 2015.
Bean Kaloni Tupou is a self-taught, touring musician born and raised in San Jose, California who has also been active since 2007 in such Bay Area bands as Sourpatch, Salt Flat, Crabapple and Plume.

Try the Pie is a solo effort spanning the length of almost ten years, drawing upon a Tongan-American and a Bay Area punk background, Bean pieces together ideas of impromptu harmony, poetic imagery, soft guitar melodies, dissonance and noise. These elements are used to create a sonic collage-work to provide a variety of vivid storytelling. The project is based heavily in the ideas of mixing present experiences with indigenous folk art, inherited histories and oral storytelling of a poetic nature.





Token Girl


-from Oakland, CA




-Token Girl is a lively three-piece ensemble based out of Oakland. Starting in 2016, bandleader Liss Leigh stepped out of her longtime role as a rhythm musician in the pursuit of creative truth through music. Token Girl cooks with a blended recipe of sounds: one part Fleetwood Mac, one part Esperanza Spalding, and a pinch of Paul McCartney. Spirited with passionate original tunes, practiced musicians, and undeniable stage chemistry, Token Girl performs music that leaves audiences feeling revitalized and fuzzy. They could play a five-year-old's birthday party just as easily as they could play Waynestock. Token Girl, like a pistachio macaroon, is the flavor-filled experience you never knew you always wanted.






Angelboy + the halos


-from Suisun City, CA




-An indie/alternative 4-piece band from Suisun City, CA. We have a thing for small citrus fruit and a love for emo music. This is just a new version.






Surf Wife


(from

Scrim

)




-from Oakland, CA


-anxiety surf rock





Maggie Gently


~

Maggie Grabmeier




-from San Francisco, CA




-Maggie Gently is the solo project of San Francisco songwriter Maggie Grabmeier (The Total Bettys). She writes truthful and vulnerable indie pop music about mental health, queer love, and trying to trust and care for yourself.