Wednesday June 19 2019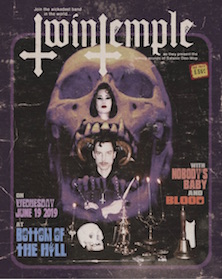 8:00PM

doors -- music at 8:30PM


••• ALL AGES




$

15


Twin Temple


www.facebook.com/twintempleforever/


Satanic Doo Wop


Nobody's Baby
of

The Atom Age

&

Dirty Denim


www.facebook.com/NOBODYSBABY666/


Death Doo-Wop - Garage Pop


Blood


from Oakland


www


punk




---

Twin Temple


-from Los Angeles, CA


-Alexandra and Zachary James are the high priests of Twin Temple, the Satanic doo-wop band hailing from the city of Angels.

The band was started on Halloween (a witch's sabbath) in 2016 when a destruction ritual was performed, and Alexandra and Zachary stepped into their power as Twin Temple, energetically killing all their previous incarnations up until that point.

Although you may expect heavy guitar riffs and a thumping bass to accompany cries of "Hail Satan," instead you'll hear old-school, classic riffs and Alexandra's crooning voice that sounds straight out of the '60s. While many confine Satan to the likes of black metal, the duo is breaking the notion that Satan has a type. After all, who says Satan wouldn't get down to some classic Americana? Inspired by the golden era of rock 'n' roll, Twin Temple rejects conformity of any kind, whether it's through their magick, performance, or sound.

And while a lot of "Satanic" metal bands begin and end their worship of Satan on stage, the same can't be said for Twin Temple. Both their music and their practice of Satanism, on and off the stage, are rooted in the ideals of free will and giving space to those who are often not allowed any.

So no, Twin Temple doesn't drink the blood of virgins or kill babies to sacrifice on the full moon. They are challenging notions about what it means to free the oppressed, fight back against dated and binary ways of thinking, and doing it all while hailing the dark lord himself.

If there's anything to expect with Twin Temple, it's the unexpected.




Nobody's Baby


(of

The Atom Age & Dirty Denim

)


Katie Rose - Guitar/Vox
Peter Niven- Guitar/Vox
Penelope Leegeten- Bass/Vox
Ryan Perras - Drums/Vox
-from Bay Area, CA


-"The squealing tires, the kick, kick kick, snare, young love, and blood curdling scream. All ingredients to an American classic, the Teenage Death Song. Nobody's Baby formed around the idea of capturing the raw honesty buried in early 60's cheese schlock. Think the Shangri-las on a Saturday speed binge and Del Shannon still drunk on a Monday morning. Buddy Holly post-plane crash. The band writes a love letter to all this. They spill their heart on the page, but the letter is written with vintage fuzz pedals, trashcan reverb, and cave dweller drums. The end result is a garage doo-wop funeral parade, and everyone's invited."






Blood


-from Oakland, CA




-BLOOD is a two piece from Oakland that incorporates elements of noise, punk and performance art. Eli is a 6yo vampire attending kindergarten in Oakland who plays synthesizer and sings. He enjoys Sonic the hedgehog and killing werewolves. Mikey is a 36yo werewolf who plays bass. He enjoys obscure horror films and dying on stage. They will melt your face and give you nightmares, dig it.