Tuesday June 25
2019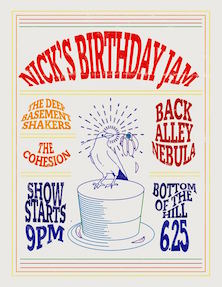 8:30PM

doors -- music at 9

:00

PM




••• 21 AND OVER




$

10




Nick's Birthday Jam


Back Alley Nebula
backalleynebula.com/


jazz funk psychedelic


The Cohesion
thecohesion831.wixsite.com/website


Alternative/Progressive/Rock


The Deep Basement Shakers
www.facebook.com/thedeepbasementshakers/


Blues, Boogie, Roots




---

Back Alley Nebula
Nick Burke - Tenor Saxophone
Scott Jacobs - Bass
Joe Schickman - Drums​
-from San Francisco, CA
-Back Alley Nebula are longtime Bay Area musicians strongly influenced by the likes of Funkadelic and John Coltrane.
Nick Burke has played with artists such as John Tchicai, Pete Escovedo, Howard Wales, Mike Olmos and many more.

Scott Jacobs was a founder and the bass player for Snake Jacobs' Church of the Bearded Skeptics.

Joe Schickman is also the drummer for the Berkeley band Uromastyx.




The Cohesion
Dave De Leon-Drums, Kevin Centofanti-Bass, Jesse Nestler-Guitars,
Jacob Johnson-Synth and Guitars, Ryan Navarloli-Sax
-from Santa Cruz, CA
-A band whose unique musical tastes across the board help define them and bring a sound that cant be found in Santa Cruz. Flavored with bits of folk, alternative, metal and progressive rock, the group have been together for almost 6 months working on preparing for shows.

​Sorensen, Dave The Drummer and Johnson had played together in the past, came together once more to create a more progressive rock sound. They later recruited Mancineli on keys and also Mcmilin as a multi-intstrumentalist subbing in for keys occasionally as well as his primary duties as saxophone player.

​Throughout the course of the band's union, they have won over the hearts of music lovers from all walks of life; performing at a variety of venues, making loads of public appearances, all the while recording new music. Learn more by exploring the site, and feel free to get in touch with any of your comments and questions.




The Deep Basement Shakers
Aaron Hammerman - Piano;
Dave Eagle - Washboard, suitcase, hand drum, spoons, train whistle, animal sounds, railroad spike
-from East Bay, CA


-Specializing in primal, joint-rockin' barrelhouse, early blues and boogie, the Deep Basement Shakers bring to life nearly-forgotten tunes with infectious, foot-stompin' energy. Featuring old-time piano and a variety of wild homemade percussive instruments, the Shakers dig deep into American blues and roots traditions - much of it prewar - for grooves designed for getting loose and feeling fine. Let's get down!