Thursday June 27 2019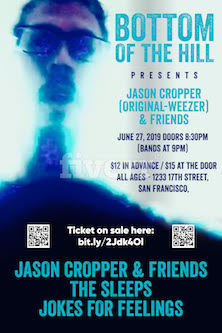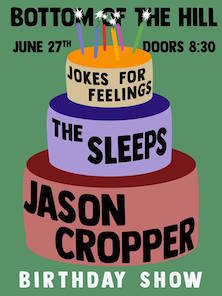 8:30PM

doors -- music at 9:00PM


••• ALL AGES




$

12

in advance

/ $15

at the door


Jason Cropper
of

Weezer


en.wikipedia.org/wiki/Jason_Cropper


Rock


The Sleeps


thesleepsofficial.wixsite.com/the-sleeps


garage rock post-punk


Jokes For Feelings
jokesforfeelings.com/


punk/ska/rock




---

Jason Cropper


-from San Francisco, CA


-Cropper was born on June 27th, 1971 in San Francisco and was raised in Berkeley, Oakland and Santa Rosa. He played in various bands in Northern California in his teens and twenties before moving to LA and joining Weezer as the founding rhythm guitarist.
Cropper was present at the band's first official band practice on February 14, 1992. He recorded on the band's first three official demo tapes previous to their signing to Geffen Records.

During the recording of Weezer (aka The Blue Album) in 1993, Cropper left the band and was then replaced by guitarist Brian Bell. Cropper signed a non-disclosure agreement, and has never publicly spoken about his reasons for leaving the band. Despite having recorded guitar and backing vocals for all songs on Weezer, his tracks were said to have been replaced by the band's vocalist/guitarist/songwriter Rivers Cuomo, with the occasional backing vocal replaced by Bell.

Cropper has a co-writing credit on Weezer's "My Name Is Jonas" for writing the song's acoustic guitar intro. The song "Jamie", featured on the 1994 DGC Rarities, Vol. 1 compilation, was recorded in 1993 and features Cropper on guitar and backing vocals. Prior to the expanded deluxe edition of The Blue Album in 2004, this was the only Weezer track released to feature Cropper on guitar and backing vocals.

In a 2014 oral history of Weezer involving members of the band (including Cropper) and various associates, it was revealed that while recording their debut album in New York, Cropper learned that his girlfriend in Los Angeles was pregnant. This resulted in Cropper leaving Weezer.
Post-Weezer

After Cropper left Weezer, he and his then wife, Amy Cropper, formed the band Chopper One. The pair, along with drummer Tyrone Rio, released the single "Free Lunch" in 1995, followed by the album Now Playing in 1997. The track, "A Punk Named Josh", https://www.youtube.com/watch?v=aPIbBupIp_A briefly achieved number one most-added status in Australian radio play.

In 1996, Cropper played guitar on Uncle Bob, an alt-rock album from 22 Jacks, which featured members of Wax, The Ramones, Adolescents and Agent Orange.
2000s

After Chopper One ended, Cropper started the band Fliptop, a pop punk supergroup that self-released a 5-track EP.[4] The band consisted of Cropper on vocals, guitars and piano, Dallan Baumgarten on guitars & vocals, Scott Shiflett on bass and Josh Freese on drums. The band played live shows around LA,[5][6] and managed to play some local Warped Tour Shows.

Cropper sang the theme song for the 2002–2003 American sitcom Andy Richter Controls the Universe .

He recorded and produced the Atlanta-based rock band Buffalo Alice's second album Mitchell (2007) and was credited for song writing, playing guitar and singing on several songs. He continued to contribute to Buffalo Alice, co-writing and producing their third album Alexander Rosenhoff Testament: A Work Of Fiction (2008), and was listed for a time as bass player on the band's website.





The Sleeps


-from Oakland, CA


-An Oakland-based garage quartet constructed by teenagers in a basement, deriving influence from the simplicity of early punk and new wave but lacking any rebellious profundity. You can often find these young men wearing masks, jumping on each other and calling it art.

We're The Sleeps. We're starting a culture, so leash up and ride the wave. Come find us in a basement in Oakland, Ca. It's a nice basement, and we have la croix.




Jokes For Feelings


-from Oakland CA




-Jokes for Feeling have been longtime fixtures of thriving SF Bay Area scene. The band formed in 2006 when a number of childhood and college friends - mixed with the talent bounty from a couple of Craigslist ads – got together in the Bay Area and began crafting and perfecting what is now the band's unique signature sound. The San Francisco Bay Area Punk and Ska scenes are now the things of legend and modern music history. And, it's a phenomenon that Ska-Punk standouts Jokes For Feelings have long been heavily involved in - and helped form. The movement - particularly the latest "4th Wave" Ska scene - is one that has experienced a notable resurgence in recent years and continues to evolve and grow as veterans increasingly interact and meld with new generations of ever-pogoing, maniacally-moshing music enthusiasts. Jokes For Feelings have continually strived to find great local bands to play with to fully-entertain their enthusiastic, dedicated (and growing) fan base.