Wednesday July 10 2019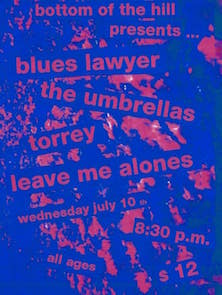 8:00PM

doors -- music at 8:30PM


••• ALL AGES




$12


Blues Lawyer


vacantstarerecords.bandcamp.com/album/guess-work


rocknroll


The Umbrellas


discontinuousinnovationinc.bandcamp.com/album/maritime-e-p


jangle pop


Torrey
torreymusic.bandcamp.com/releases


indie pop


The Leave Me Alones
theleavemealones.bandcamp.com/releases


twee pop punk



---

Blues Lawyer
Elyse Schrock: Drums, Vocals
Rob I. Miller: Vocals, Guitar
Alejandra Alcala: Bass
Nic Russo: Guitar
-from Oakland, CA
--"...borrows from the nervous and tense jangle of the FEELIES, the subtly melancholic hooks of Flying Nun's Dunedin faction, and perhaps most of all, the scrappy and lovelorn guy/gal harmonies of the VASELINES, all while grappling with the realities of daily life and romance in a modern world where hyper-connectivity only seems to result in greater alienation from one another."

- Erika Elizabeth / Maximum Rocknroll

"Tales of love, crushes, and infatuation gone south presented via a mix of Messthetics and Flying Nun sounds at their best. Honest poetry of frustration and heartbreak that even the most emotionally cold can relate to—in the dark and alone of course. "Pretend" embodies that with: "I saw you in the street light, waiting on a car, you were right in front of me, but never seemed so far." Through all of this, musically and lyrically, there is a sublime quality that can not be denied."

– Matt Average // Razorcake




The Umbrellas
morgan s.
keith f.
nick o.
matt f.
-from San Francisco, CA


-San Francisco based jangle pop outfit.






Torrey
Ryann ----- Vocals
Kelly ----------- Guitar
Eric ----- Drums
Chase --------- Bass/Guitar
-from San Francisco, CA


-San Francisco musicians, a pair of siblings, and friends; Ryann Gonsalves (vox), Kelly Gonsalves (guitar), Eric Mohammed (drums), and Chase Eiseman (bass) make up Torrey. A longtime project between Ryann and Kelly, where most songs were created through threads of scratchy voice memos, stacks of scribbled notepads, and quiet practices in small studio apartments. After months of playing and hanging out, Eric and Chase joined the project and the bay area four piece released their first EP in April 2019, a little view into their brains brought to fruition. Recorded and produced by Sami Perez over at Tiny Telephone SF.





The Leave Me Alones
-from Oakland, CA


-"Fast and fuzzy twee pop from Oakland"