Thursday July 11 2019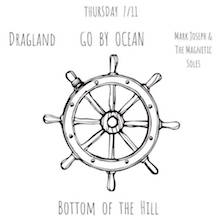 8:00PM

doors -- music at 8:00PM


••• 21 AND OVER




$12


Dragland


www.draglandband.com/


Rock, Folk, Country, Pop


Go By Ocean
gobyocean.com/


Alternative / indie Pop / Indie Rock


Mark Joseph & The Magnetic Soles
www


rock




---

Dragland
Guitar/Vox - Adam Dragland
Bass - Michael Carney
Keys - Brendan Getzell
Drums - Charlie Knote
-from San Francisco, CA
-Born and raised in the Canadian Rocky Mountains, Adam Dragland moved to the USA as a teenager and found rock n' roll. He's become a staple throughout the SF Bay Area music scene on lead guitar, playing for bands such as Gold Minor, Kat Robichaud and the Darling Misfits, The Sam Chase and the Untraditional, Mickelson, Tony Glaser and the Party and First Church of the Sacred Silversexual.

Dragland's first love has always been songwriting, though, and the self-titled Dragland album was released on November 13, 2017. It's a vibrant, gritty 7-song LP that was recorded and mixed entirely at Gulch Alley Studios in San Francisco.

Dragland is joined by longtime musical comrade Michael Carney on bass and background vocals. Carney lends an unorthodox, infectious groove to the songs. Veteran Bay Area musicians Brendan Getzell on keys and drummer Charlie Knote round out the dynamic musical backbone. The band always brings it live, driven by Dragland's relentless energy and his raspy, honest voice. The follow-up EP entitled "The Roadmaster" will be released 3/15/2019 and it's three slow jams showcase the band along with guest appearances from PJ Bottoms (sax/guitar) and Chandra Johnson (violin).

The Bay Bridged says that Dragland "...has the song writing talents of a great neoclassicist Country performer, like Mel Tillis or Dolly Parton, but the frantic guitar and passion of the alternative music movement. The word genuine gets thrown around a lot, but it's the only word that really fits Dragland's performance."





Go By Ocean
Ryan McCaffrey - Vocals, Guitar
Eric DiBerardino - Bass, Vocals
Sean Nelson - Drums
-from San Francisco, CA
-It has been said that "the darkest hour is just before the dawn," and in the case of Ryan McCaffrey, leading member of San Francisco indie rock band Go By Ocean, that dark hour turned into several dark years. As things currently stand, however, we're somewhere around midday. The sun is at its highest and the singer/guitarist is embracing his new life in the light. On Go By Ocean's second full length, McCaffrey and his troupe have harnessed its energy and the aptly titled Sun Machine radiates a message of hope and perseverance.

To make the album, the group blended a traditional live approach with contemporary production to create a densely layered sound, which belies its spontaneous creation, and all arrangement decisions were made during one week-long session at Stinson Beach's Panoramic House studio. At the moment of its creation McCaffrey was healthy and hopeful, and it shows; he entered the studio with one producer, four musicians, and ten songs written on acoustic guitar and vocals, and left with a fully fleshed out and cohesive album that is well summarized by its title.





Mark Joseph & The Magnetic Soles


-frm San Francisco, CA


-Mark Joseph & The Magnetic Soles is the solo project of local San Francisco artist Mark Joseph. Born by more than 15 years of experience in songwriting and performance with various Bay Area bands, the project hosts a multitude of influences and an alternating cast of both characters and sounds with Mark Joseph and his two soles serving as the foundation. The songs elaborate on the teller's life experiences, sharing dreamy tales of truths lost and found through spiritual seeking amidst busy city life. On any given night, performances may be solo or with a backing group.

One thing is for certain, Mark Joseph & The Magnetic Soles brings an awareness of the brevity of life in the sound of genuine heart & soul to any stage, every time.