Friday July12 2019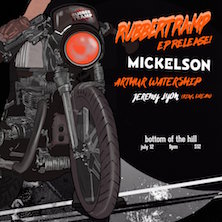 8:00PM

doors -- music at 8:30PM


••• 21 AND OVER




$12

at the door




Rubber Tramp


(EP release)


rubbertramp.bandcamp.com/releases


garage rock


Mickelson


.mickelsonmusic.com/


Alternative Folk


Arthur Watership
www.arthurwatership.com/


Experimental folk/Baroque rock


Jeremy Lyon


of

King Dream


www.facebook.com/jeremy.lyon1


rock / psychedelic / alternative
---

Rubber Tramp

(EP release)


Zak Mandel-Romann (vocals, guitar organ)
Tracey Holland (vocals)
Jeremy Lyon (guitar, keys, vocals)
Daniel Erik (bass)
Peter Labberton (drums)
-from Oakland, CA


-Rubber Tramp makes rock n roll music. Rubber Tramp is rope swings, road trips, and sex. Gospel of the West, garage-made salvation, uncontrollable frolicking.






Mickelson


-from San Francisco, CA


-Through a career that spanned five full-length releases with his band Fat Opie, a struggle with a long-term illness and a career as a children's book author and fine artist, Scott Mickelson has persevered. In 2015, Mickelson released his debut full-length Flickering which made the Grammy Ballot in two categories, "Best Folk Album" and "Best Roots Music Performance".

Mickelson appears in numerous publications both nationally and locally including NPR Radio, Jimmy Lloyd Show (NBC), Huffington Post, CBS Morning Show, No Depression, Paste, Glide Magazine, PopMatters, TheBayBridged, Alternative Press Magazine, San Francisco Chronicle, SF Weekly, and with the Folk Alliance. He also gained national recognition after winning a band search contest sponsored by MTV/7-Up with a prize of $15,000 and a song in the feature film Along The Way.

In the nineties, Fat Opie was managed by the legendary manager Elliot Roberts/Lookout Management (Neil Young, Tom Petty). While under contract in LA he had the opportunity to work side by side with Grammy arranger Jimmy Haskell (Steely Dan, Chicago, Simon & Garfunkel). At age seventeen he signed his first record deal with DSM Productions in NYC while playing infamous clubs like CBGB's. His colorful earlier years in NY included playing with Dave Van Ronk and receiving career guidance from Sid Bernstein (Beatles promoter).

Born and raised in Massachusetts, Mickelson has lived in the Bay Area since the 80's. In San Francisco, Mickelson can be seen performing at the top venues including The Fillmore and Great American Music Hall. When not on tour, Mickelson produces from his Marin studio.





Arthur Watership
Taylor Belmore - Lead vocals, Viola da Gamba, Guitar
Adam Nash - Lead guitar, backup vocals
Mary MacLane - Upright and electric bass, backup vocals
-from San Luis Obispo, CA


-Over time laced with an array of musical influences and experiences, Arthur Watership has cultivated a unique sound and style that is often compared to Kate Bush, Tori Amos and Scout Niblet. Arthur Watership is the name given to the spirit that comes from the passion in performance; the ghost at the helm of life's journey. Arthur Watership songs are centered around a love of nature and a longing to return to it, and the human mishaps that bring us back. The band is built of a small and sturdy crew of musicians on a variety of instruments ranging from pedal steel to the rare Viola da Gamba.






Jeremy Lyon


of

King Dream


-from Oakland, CA
-King Dream is an indie psych-rock project from Bay Area songwriter and multi-instrumentalist Jeremy Lyon. With a soulful voice, roots planted in the golden era of California psychedelia, and a wry energy that places him firmly in the 21st century, Lyon charts a path through timeless themes: disillusionment with oneself, with adulthood, with one's country — and the discovery, time and again, that somehow there's still plenty worthy of a love song.

Lyon, a Bay Area native, previously co-founded the folk-rock band Tumbleweed Wanderers, who toured the country for five years before disbanding in 2016. Inspired by songwriters like Jim James, Jonathan Wilson and Blake Mills, Lyon spent the next two years questioning and reinventing himself — and, thanks to his vocal ability and versatility, soon became one of the most in-demand sidemen in the Bay. Playing with different bands, he picked up a few things: new instruments and arrangement techniques; a love of darker textures and moody, atmospheric sounds on electric guitar. And then an invaluable collaborator- producer: Lyon credits Graham Patzner of Whiskerman with helping to shape and carry the new project from idea to reality.

King Dream's self-titled debut, out August 24th, 2018, is a reemergence of sorts. It's also a good record for a long drive along the coast. It's about places, relationships and empires crumbling, and the possibilities that announce themselves when the dust has cleared — when you find yourself alone for the first time in a long while, and you open your mouth and see what comes out.