Sunday July 14 2019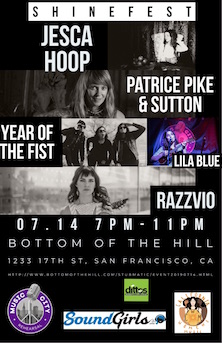 6:30PM

doors -- music at 7:00PM


••• ALL AGES




$

20

in advance

/ $25

at the door


California Women's Music


presents...

"SHINEFEST 2019"


Jesca Hoop


www.facebook.com/JescaHoopMusic/


genre free


Patrice Pike and Sutton


www.pikeandsutton.com/


Rock, Soul, Funk


Year of the Fist
www.facebook.com/yearofthefist/


Rock, Punk Rock


Razzvio
razzvio.com/


Electric String Pop


Lila Blue
www.lilabluemusic.com/


folk, Singer-Songwriter



---

Jesca Hoop


-from Manchester, UK


-Jesca Hoop has lived all over the map, and her rich life experience is reflected in her distinctive voice and natural gift for inventive song craft.

Hoop learned to sing at an early age, harmonising with her musical Mormon family in northern California. She began writing highly idiosyncratic songs at the age of 14 to keep her company on her long walks to school. At 16, Hoop broke away from her strict upbringing and began what she calls her 'life as a racoon', off the grid & close to nature. Rambling through the high mountain deserts of the Southwest and along the coastlines of the Northwest, she worked as a wilderness survival guide and chalked up skills in farming, surveying, and carpentry. Her songwriting continued throughout, shared on porches, in deep river canyons and around campfires.

In 2004 the desire to share these songs on a broader scale set in. She settled in Los Angeles, where she honed her songwriting craft and developed a reputation as a unique and beguiling live performer of real substance. Though she now resides in Manchester, England, Hoop returned to Los Angeles to record her third album, The House That Jack Built.

Jesca has quite the growing collection of fans in high places: Tom Waits described her music as being "like a four sided coin. She is an old soul, like a black pearl, a good witch or red moon. Her music is like going swimming in a lake at night". Peter Gabriel took her to South America to sing with him, and in recent years she has been hand picked to play as support on tour for Eels, Andrew Bird, Punch Brothers and Elbow: Elbow's Guy Garvey even had her do a stint as guest presenter on his BBC radio show in early 2012, to great reception.

The follow up to 2009's critically acclaimed Hunting My Dress, this new record displays a striking duality: light and dark, head and heart, it juxtaposes the macabre and visceral with a disarmingly candid intimacy. The resulting combination is powerfully evocative, with overarching themes of biology, nature and humanity - Hoop's stone-turning observations are mired in the equal beauty and violence of a nature that, for her, is clearly red in tooth and claw.





Patrice Pike and Sutton
Patrice Pike, Wayne Sutton,
John Thomasson, Rob Kidd, Jay Stiles
-from Austn, TX
-Patrice Pike and Wayne Sutton are the founders of the seminal jam band Little Sister, also known as Sister 7. Their songs are literary, emotionally riveting and eclectic, drawing from Roots Rock, Rhythm and Blues, Soul and Jazz influences. Patrice is an accomplished rhythm guitarist, vocalist and drummer and Wayne's lead guitar and singing all together creates a big sound as a duo as well as with their full band. They have put together a collection of new songs that have been selling out shows in major markets in the southwestern region and west coast and are working on a new recording project currently in the high desert of Santa Fe with John Thomasson, band director for Little Big Town and who played bass in Little Sister, as well as Robb Kidd of Golden Dawn Arkestra on drums. Pike and Sutton has toured in Sister 7 and on their own including supporting the Allman Brothers, John Fogerty, Sarah McLachlan, Blues Traveler, The Neville Brothers, Ray Charles, Chris Isaak and Dave Matthews Band, Johnny Lang, Robert Randolph and the Family Band, among others. They have played Austin City Limits Festival for many years, as well as Kerrville Folk, High Sierra, Strawberry Festival, and also legendary venues in the U.S. and Europe including iconic clubs and theaters and concert sheds including Red Rocks, The Greek Theater, Pine Knob Amphitheater, Fox Theater, Moody Theater and more.






Year of the Fist
Squeaky, Katie Cash, hal9000 Beers, Serge
-from Oakland, CA


-Year Of The Fist reaches from Oakland, California where there has been no shortage of great musicians and bands to play with or catch live on any night of the week. In 2011 three friends found themselves in a position to play in the same band instead of different ones. Together their musical backgrounds spanned the genres of blues, dance, punk, country, metal and folk but all have the love for rock and roll. This has led them to open for a wide spectrum of acts such as L7, Save Ferris, MDC, 88 Fingers Louie, The Vibrators and Zeke to name a few. With 8 years under their belt as a band, Year Of The Fist has released two albums with a third on the horizon, multiple regional and international tours and several music videos with no end in sight.






Razzvio


-from Monterey, CA


-Razzvio is an electric violinist, singer and producer. Through mastery of modern digital technology including live looping, DJing, and processing, she blends powerhouse vocals with her unique violin designed to build songs with the sophistication of a string quartet. Razzvio's all new brand of interactive electric string pop will make you rethink the electric violin.

Singer/violinist Razz is a songwriter and classically trained musician. She performs with custom 6 and 7-string electric violins called 'Viper Violins' which allow her to sing and play at the same time and encompasses the range of a violin, viola, and cello. Razz has toured throughout the United States with her intimate, self-sustained, and volume-controlled setup; delighting listeners in concert halls, clubs, and street corners since 2013. Razzvio has released two albums, 'Mercurial' and 'Perpetual Hybrid.




-

Lila Blue
-from San Francisco, CA


-Lila Blue is a singer songwriter from New York City who moved to San Francisco in 2011. At just 17 years old, Lila Blue has proven herself to be an accomplished recording artist, theatrical composer, and multi-instrumentalist. Her songs seem to flow from some deep and ageless source, laying bare emotional journeys unexpected from someone so young. Her vocal phrasing still carries the sweetness of youth, but the lyrics resonate with the shadows and complexity of an older soul. This is poetry wed to music.