Thursday July 18 2019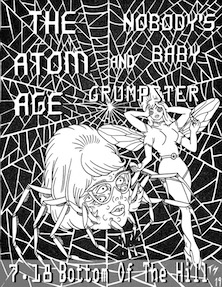 8:30PM

doors -- music at 9:00PM


••• ALL AGES




$

12


The Atom Age
www.facebook.com/theatomage/


or&b surf stomp


Nobody's Baby
of

The Atom Age

&

Dirty Denim


nobodysbaby.bandzoogle.com/


Death Doo-Wop - Garage Pop


Grumpster
www.facebook.com/theatomage/


punk




---

The Atom Age
Ryan - Vox Gtr
Peter - Vox Gtr
Brendan - Sax
Fred - Organ
Tim - Drums
-from Oakland, CA


-The Atom Age find their inspiration from the dust covered collections of unhinged 60's punk and R&B, whose crazed energy was once misconceived as a better fit for your trashcan than for your turntable. While taking many of their cues from these primitive pilgrims of punk, The Atom Age still strive to lay down their own modernized take on the sound. The band's new record, Hot Shame, was co-produced by Blag Dahlia of the Dwarves, and channels a wide range of influences from bands like The Sonics, Link Wray and the Murder City Devils.






Nobody's Baby
Katie Rose - Guitar/Vox
Peter Niven- Guitar/Vox
Penelope Leegeten- Bass/Vox
Ryan Perras - Drums/Vox
-from Bay Area, CA


-"The squealing tires, the kick, kick kick, snare, young love, and blood curdling scream. All ingredients to an American classic, the Teenage Death Song. Nobody's Baby formed around the idea of capturing the raw honesty buried in early 60's cheese schlock. Think the Shangri-las on a Saturday speed binge and Del Shannon still drunk on a Monday morning. Buddy Holly post-plane crash. The band writes a love letter to all this. They spill their heart on the page, but the letter is written with vintage fuzz pedals, trashcan reverb, and cave dweller drums. The end result is a garage doo-wop funeral parade, and everyone's invited."






Grumpster
Falyn // Bass & Vox
Lalo // Guitar
Noel // Drums
-from OAKLAND, CA


-Grumpster is a punk trio based in Oakland, CA. Their message is simple, and it's clear when they're on stage: Loud, fun, in your face rock & roll. If you plan on seeing Grumpster, be prepared to mosh.