Saturday July 27 2019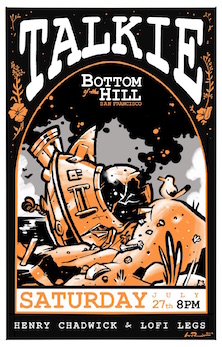 8:00PM

doors -- music at 8:30PM


••• ALL AGES




$

12

in advance

/ $15

at the door
Talkie
Album release
www.facebook.com/talkie/


bedroom pop shoegaze surf


Henry Chadwick
www.henrychadwick.net/


Alternative/Indie


Lofi Legs




Album release


www.facebook.com/lofilegs/


jangle pop garage psychedelic


Visuals by

While Light Prism


www.facebook.com/WhiteLightPrism/


---

Talkie
Chris, Eric, Matt and Brad
-from San Francisco, CA
-It was the fall of 2014. There we sat at Rock Bottom; no, not a low-point of existence, but rather a local establishment of fine dining with a rather depressing moniker. We heard a whisper: "Hablas." Puzzled and in desperation we inquired, "¿Hablas? ¡Estamos muy nervioso, no entendemos español!" And yet, the Spanish whisper lingered in the air: "Diles de mi historia. Deje tu montaña y ofrecer la palabra al pueblo." How could we refuse?

After several months of isolation and secrecy, we emerged with the makings of a new record. Pero, ¿dónde iremos? ¿Quién podría comunicar esta pieza? ¿Quién entenderá los misterios y milagros de este mundo que hemos visto? No one. No one, that is...but us. And so, we built a recording studio in a barn and set out to record, re-record, mix, ctrl-z, mix again, and master a new album entirely by ourselves in the summer of 2015. Little did we know that we'd be making our greatest double LP to date.

De nada, Planet Earth.

"You've heard it in inglés, you've heard it in español. It is with great pride and bravado that Talkie bring you the follow-up to their CMJ debut: the double-LP experience, Hablas. Clocking in at just under an hour, the entire project was produced in seclusion at Headfone Audio -a new studio facility built and operated by the band."




Henry Chadwick
Henry Chadwick
Zach Scott
Eddie Curzon
Anders Cochran
-from Santa Cruz, CA
-In late 2017 Henry Chadwick entered the studio with producer Rob Schnapf (Elliott Smith, Beck, Kurt Vile etc.) and engineer, Brian Rosemeyer (Kurt Vile, Cass McCombs, Surfer Blood etc.), and emerged with Henry's most personal and ambitious effort to date. Chadwick acted as a multi-instrumentalist again, playing drums, guitar, bass and keys on the record. The 11-song album (due out in the 2nd half of 2018) is named Marlin Fisher, after Henry's two middle names. Marlin Fisher has received praise from the likes of Rolling Stone, No Depression and more.

Chadwick's self-produced and released 2016 debut EP, Guest At Home, first showcased his skills as a writer, engineer, mixer and performer. The EP garnered attention from prominent blogs and outlets such as Rolling Stone, Time, Huffington Post, Indie Shuffle and others. Rolling Stone and Time Magazine listed it as one of the best albums to come out in the first half of 2016.

Dancing between genres and landing somewhere between indie, garage rock, psychedelia and shimmery, sunshine-tinged power-pop, Henry picks up where he left off and moves across plenty of new terrain on this personal and ambitious full-length debut.




Lofi Legs
Paris Cox-Farr & Maria Donjacour & Daniel Bromfield
-from San Francisco, CA


-Conceived in the waters of Arroyo Seco, forged in the Bay Area DIY scene, Lofi Legs is an SF-based power trio writing songs about falling in love, dropping acid, and buying horses. Starry-eyed love ballads share space with rampaging party songs. Formed by Paris Cox-Farr and Maria Donjacour, the band has in recent years blossomed into a three-piece with Daniel Bromfield on keyboards. Big pLAMBns ahead...