Wednesday July 31 2019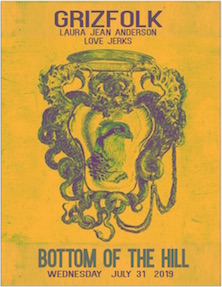 8:30PM

doors -- music at 9:00PM


••• ALL AGES




$

15

in advance

/ $18

at the door


Grizfolk


www.grizfolk.com/


alternative electronic folk


Laura Jean Anderson


www.laurajeanandersonmusic.com/


Rock & Roll


Love Jerks

----

Love Jerks

back on the bill


www.lovejerks.com/


psychedelic




---

Grizfolk
Adam Roth
Sebastian Fritze
Fredrik Eriksson
Bill Delia
-from Sweden/Los Angeles, CA
-Based in Los Angeles & Nashville with roots in Sweden, Grizfolk is an alternative rock band consisting of Adam Roth, Sebastian Fritze, Fredrik Eriksson, and Bill Delia. Grizfolk released their debut EP, "From The Spark", in February 2014, followed by their debut full-length studio album, "Waking Up The Giants", via Virgin Records in January 2016, showcasing their penchant for delivering electronic-tinged folk rock. They spent much of the last five years touring around the world, from headline shows to support slots with Bastille, X Ambassadors, AJR, and more. They've also run the festival circuit, including Firefly, Hangout Fest, BottleRock, and Voodoo Fest. In 2018, Grizfolk released the track "Shaky In The Knees", hinting at a slightly new direction for the band, moving away from some of the electronic elements present on their first two releases and focusing on more organic instrumentation.
Grizfolk started off 2019 with two new songs and an extensive North American tour with Andrew McMahon in the Wilderness and flor. Those first two tracks of the year, "Spoonful" and "Heavy Crown", continued the bands musical evolution, incorporating more upright piano and guitar, and less synths. "Spoonful" channels a retro sound to deliver a dark tale of yearning for someone out of reach, while "Heavy Crown" melds a danceable bass line with jangly pianos to create an upbeat track that is sneakily about the tough subject of fighting for what's right in today's complicated world.
On April 24th, the band announced that their second full length album, "Rarest of Birds" is set for release via Nettwerk Records on July 19, 2019. Of the album, the band says, "Listening to Rarest of Birds should feel a bit like looking through a kaleidoscope of fleeting moments…a glimpse into our yearning for truth and answers within and without. Written in some of the darkest times, it was a vehicle out of addiction and depression. It was a one-way ticket out of a personal hell, purchased by the heart and paid for with love, light, and dedication." Catch them on the road this summer supporting "Rarest of Birds"!





Laura Jean Anderson


-from Olympia, WA




-Laura Jean Anderson, born in Olympia, Washington and now residing in Los-Angeles, is an artist with her feet rooted in old American music from soul to folk/americana to rock n roll, while embracing pushing the boundaries of modern music. Her weekly shows across Los Angeles have established her as a staple of the LA music scene, garnering support from KCRW, and having LA Weekly proclaim that her music as a "timeless sound… a mysterious conception that sounds as it's from another era." Laura Jean has started releasing new singles, garnering support from NPR, Noisey, Salon, Fader, among others.






Love Jerks


-from San Francsico, CA


-Love Jerks is a San Francisco duo who make glam-rock anthems and dream-pop ballads that leave you no choice but to dance, or swoon, or both. The offspring of two longtime lead singers—Bryan Garza of Scissors for Lefty (vocals, guitar) and Rebecca Garza-Bortman of Happy Fangs and My First Earthquake (vocals, bass)—Love Jerks was born when these two jerks, yes, fell in love. They met in a rock club (at Bottom of The Hill in fact!), got engaged at a rock club (yep, BoTH again!), got married in a rock club; and somewhere in between they discovered a mutual affection for Grimes, The Pretenders, Tame Impala, and French pop from the 1960s. The result feels fated: magnetic melodies, wry lyricism, and a theatrical stage show that the pair bring to life with the help of their third member, a virtual psychedelic animal drummer. Love Jerks' first full-length, Million Movies, came out November, 2018 and will be available on purple vinyl at the show.