Saturday August 3 2019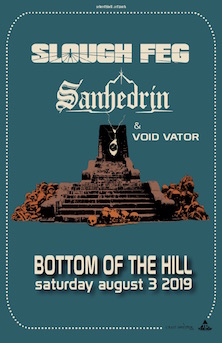 8:30PM

doors -- music at 9:00PM


••• 21 AND OVER




$

15

in advance

/ $20

at the door


Slough Feg


www.sloughfeg.com/


Heavy Metal/Hard Rock


Sanhedrin


www.sanhedrin.nyc/


Heavy Metal/Hard Rock/NYC


Void Vator
www.facebook.com/voidvator/


Alternative Metal




---

Slough Feg
Michael Scalzi - Vocals/Guitar
Angelo Tringali - Guitar
Adrian Maestas - Bass Guitar
Jeff Griffin - Drums
-from San Francisco, CA
-"I didn't want to just 'put out another album,'" begins SLOUGH FEG vocalist/guitarist Mike Scalzi. "I remember telling people that I didn't want to do another album just to do another album, like so often happens. So, we wrote a lot of songs and only picked the best ones."

Such was the approach for SLOUGH FEG's long-awaited tenth studio album, "New Organon", which will see the light of day via Cruz Del Sur Music on June 14 in European territories and June 21 in North America. "New Organon" also marks the recording debut of drummer Jeff Griffin (who split studio duties with John Dust) and joins Scalzi and longtime members Angelo Tringali (guitar) and Adrian Maestas (bass).

"New Organon" is another definitive statement from one of America's most enduring and unique true metal bands, whose penchant for THIN LIZZY-inspired guitar harmonies and Scalzi's timeless storytelling has turned albums such as 2005's "Atavism", 2007's "Hardworlder" and 2010's "The Animal Spirits" into proto-metal bedrocks.

Since the release of 2014's "Digital Resistance", SLOUGH FEG did three touring jaunts through Europe in addition to some shorter American runs, not to mention the release of the "New Organon" seven-inch, which was issued last year. Scalzi freely admits that real life has gotten in the way of SLOUGH FEG making a new LP. That, and his desire to make sure the band still sounds fresh after nine studio albums. "A lot of stuff ended up on the cutting room floor," he says. "There were some songs we tried to work out for months but ended up dropping because they bored us. We have to be excited about new songs or there's no point in recording them. We dropped several songs I came up with and some that the other guys came up with, too. It's tough, but sometimes you have to be honest with yourself and the people in your band and move on when an idea is not working. So, we came up with a lot of song ideas and only kept the ones that sounded exciting for months."

In true SLOUGH FEG tradition, there is a strong theme running throughout "New Organon", which was inspired by the 1620 book published by Francis Bacon of the same name. "It presents a new version of the scientific method, as originally presented by Aristotle 2,000 years earlier," notes Scalzi, who is also a philosophy professor at a college in California. "According to Bacon and others, the science method had remained stagnant for this long period, through the middle ages and renaissance, and needed a refresher. 'Organon' refers to a scientific 'instrument' or more literally, 'organ.' So, it represents a new method for scientific revolution. The songs are all basically about philosophy—from my lecture notes! It starts out talking about primitive tribal society like shamanism as the first philosophers and then proceeds though the pre-Socratics era and then Plato, Aristotle, medieval catholic theology, enlightenment and then existentialist philosophy — mostly in chronological order."

Fans of the band's early output when they went under the extended name of THE LORD WEIRD SLOUGH FEG will no doubt be enthused for what's in store on "New Organon". The album has a more natural, if not "rustic" feel to it, recalling the band's halcyon "Twilight Of The Idols" and "Down Among The Deadmen" era. "Very simply, the songs are more heavy, rough and produced rawer than the last album or two," says Scalzi. "The themes are not about technology, but about ancient philosophy and science. It's just more metal, but in a very primitive way — but that's sort of our specialty anyway."

Around the release date of "New Organon", SLOUGH FEG will be trekking across the United States with labelmates SANHEDRIN. "We'll be doing ten shows on the east coast in late May/early June, right about the time when the album comes out, including New York, Boston, Baltimore and Pittsburgh," says Scalzi. "In early August, SANHEDRIN is going to come out we'll do another run with them up and down the west coast."






Sanhedrin
Erica Stoltz - Vocals, Bass
Jeremy Sosville - Guitar, Backing Vocals
Nathan Honor - Drums
-from Brooklyn, NY
-Brooklyn's Sanhedrin scale boundaries and elude genre norms on their second studio album, The Poisoner. The band's intoxicating blend of doom and classic metal is complemented by lyrics that delve into the darker elements of humanity and the cyclical nature of destructive ideas. Thought-provoking and inherently catchy at the same time, The Poisoner is indicative of a band unafraid to venture into unchartered territory.

Sanhedrin's 2017 A Funeral for the World debut full-length was originally released independently, but reissued for broader release by Cruz Del Sur Music in 2018. The Poisoner picks up where its predecessor left off, with the Brooklyn trio (who consist of former Amber Asylum/Lost Goat bassist/vocalist Erica Stoltz, Black Anvil guitarist Jeremy Sosville and drummer Nathan Honor) parlaying their vast array of influences into eight gripping, instantaneously memorable numbers that rely melodic riff choices, the affecting vocals of Stoltz and touches of dark atmosphere.

Recorded with producer Colin Marston at Menegroth, The Thousand Caves, the members of Sanhedrin cite Marston's ability to pick up on the minute details of their sound as one of the reasons for their collaboration, which began on A Funeral for the World. According to Sanhedrin, Marston, who usually tackles some of extreme metal's most unique and unrelenting acts, is on the same sonic wavelength as the band, capable of translating their musical vision without sacrificing the raw and natural elements of their sound.

The Poisoner reflects the various sides of Sanhedrin, from classic, if not soaring jaunts, to tight, direct melds of gallop-oriented metal to doom-channeled motifs, most notably, the album's title track, which features a guest appearance by Stoltz's former Amber Asylum bandmate Kris Force on violin. This diversity is less of a jigsaw than it is the natural melding of various ideas and styles, taking Sanhedrin to new places on each song. On The Poisoner, Sanhedrin defies categorization, hereby entering into their own carved-out space where exploration and timeless songwriting are paramount.




Void Vator
Lucas Kanopa (guitar, vocals)
Erik Kluiber (guitar)
German Moura (drums)
Sam Harman (bass)
-from Los Angeles, CA
-Formed in December of 2014, Void Vator is a hard rock/heavy metal band based out of Los Angeles, CA. After years of turmoil, the band truly took form when founding members Lucas Kanopa (guitar/vocals) and ex-Gypsyhawk guitarist Erik Kluiber joined forces with Lucas's childhood friend German Moura on drums and Sam Harman on bass. Piecing together their debut EP, Dehumanized with Grammy nominated hard rock producer Ulrich Wild (Pantera, Deftones, Metalocalypse) and releasing on his WURMgroup label in July of 2017, the band had the world at their feet.

Hitting the road hard and often after having teamed up with Hi Wattage Booking (Now a subsidiary of Tone Deaf Touring) in summer 2018 the band purchased their own van, driven by a desire for even more. By the end of the year they had toured four times in a twelve month period, starting to firmly establish their presence as scene newcomers who could go for the throat. Building their live approach on hard hitting rock and roll riffage rather than the stoned vibes of many of their peers, Void Vator have quickly developed a reputation as a take-no-prisoners live act.

With hardly a moment to breathe, Void Vator recently dove back into the studio with world renowned producer Bill Metoyer (Slayer, DRI, Bodycount) in North Hollywood to record a 6 song, soon to be self released EP entitled "Stranded". Eager to once more take to the wicked ways of the road, the "Skeleton Crew" tour will take Void Vator further than ever before, spanning a full month and reaching out to northeastern US cities including NYC, Boston, and New Haven. Determined to take the world by storm and driving to ever more twisted heights, Void Vator are balls out rock and roll and they are here to stay.