Thursday August 15 2019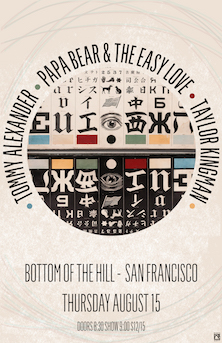 8:30PM

doors -- music at 9:00PM


••• 21 AND OVER




$

12

in advance

/ $15

at the door


Papa Bear & The Easy Love


theeasylove.com/


folk americana bluegrass


Tommy Alexander Band


www.tommyalexander.com/


alternative indie rock


Taylor Kingman
www.taylorkingman.com/


folk

singer songwriter




---

Papa Bear & The Easy Love


-from San Francisco, CA




-Constantly striving to explore the boundaries and edges of human emotion, Papa Bear captures a deep perspective into the human experience. Lyrical content covers the gamut of mystery, beauty, and the comedy and tragedy of life. The musical lineage stems from the folk heritage, but ranges broadly.. from Americana and bluegrass, to blues, jazz, and good old rock'n'roll. PB and the Easy Love's shows typically end in a massive singalong, blurring the boundaries between performer and audience, and inviting all to express themselves.






Tommy Alexander Band


-from Portland, OR


-Making it as a musician today can require a heavy helping of DIY spirit, and Tommy Alexander has that in spades. It carried the California born musician all the way to Burlington, Vermont, where he founded Jenke Arts, a nonprofit artists' collective and record label, and eventually all the way back west, where he found a new artistic home (at least for the moment) in Portland, Oregon. Once in Portland, Alexander connected with producer Mike Coykendall, who has worked with a slew of indie darlings, including M. Ward, She and Him Bright Eyes and Blitzen Trapper. Alexander's creates a unique, infectious indie rock style all his own. His honest and heartfelt lyricism come to life in his songs which will strike a chord with you the very first listen.

"A phenomenal talent."
- Michael McDonald
​ (5 Time Grammy Winner)

"Thought provoking music in an age of glib imitation."
- No Depression

"Wicked Indie rock."
- Brett Lanier (Barr Brothers)


Tommy & co. have been fortunate to share the stage with killer song-makers including; Michael McDonald, Mac Demarco, ​Big Thief, Adrianne Lenker, Willy Tea Taylor, Twain, Susto, Buck Meek, Milo, Spirit Family Reunion, Aaron Lee Tasjan, Taylor Kingman, People Under The Stairs, & Whiskerman




Taylor Kingman


-from Portland, OR


-Taylor Kingman makes music that resets the clocks. You know the feeling of standing beneath a trestle on a hard day, a can of cheap beer, flicking a lighter and dreaming up wild ideas until a heavy train comes thundering overhead and you scream and scream until your voice gives out and you feel lighter? That's the thing that lives deep in Taylor's songs. There's something so rubbed-raw honest and drunken-truth about them. You can't help but be transfixed and transformed.

Born in Portland, OR and raised in Marion County, Taylor picked up a guitar and started writing at 12. In high school, he formed The Hill Dogs, a raucous, powerful band that hit hard beneath his explosive lyrics. After graduating, he wrote like a madman, played out heavily with the band, and taught guitar on the side.

​In 2015, Taylor packed up and headed to Portland where he played anywhere and everywhere with The Hill Dogs until he blew out his voice and had to halt the band. The restrictions of his healing vocal chords gave way to a deluge of new writing. Taylor joined multiple projects around the city with some of Portland's finest and recorded his debut solo album Wannabe at the great Mike Coykendall's studio, due out November 17th on Mama Bird Recording Co. He recently formed 'TK and the Holy Know Nothings' with Lewi Longmire, Jay Cobb Anderson, Tyler Thompson, and Josh Simon as a vehicle for a growing ocean of new material.

​Of writing songs, Taylor says, "Each word is a world waiting to swallow me whole. I get drunk off the pitter patter poetry of lines that root me to the cold, unforgiving ground, all at once, drowning me in the violent beautiful futility of humanity, yet, also, set fire to my eyes, sending me swirling and whirling, floating blind and thoughtless through the maze of the mind. I want the words to explode bloody in all their truth, for better or worse. Vivid images dripping with feeling bursting like lightbulbs in the back of the head." Enough said. Train thundering. Sparks raining down.