Friday August 16 2019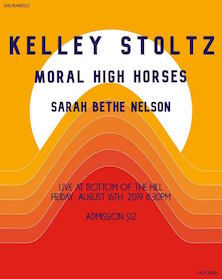 8:30PM

doors -- music at 9:00PM
••• 21 AND OVER
$12

Kelley Stoltz
www.kelleystoltz.com/


lo fi indie rock


Moral High Horses
www.facebook.com/moralhighhorses/


melodic pop psychedelic


Sarah Bethe Nelson
www.facebook.com/sarahbethenelson/


dance garage pop




---

Kelley Stoltz


-from San Francisco, CA


-Singer/songwriter Kelley Stoltz grew up in the Detroit area, but eventually found his way to San Francisco after taking a detour to New York City, where he worked in the mailroom at Jeff Buckley's management company. Armed with a four-track recorder and a wealth of lo-fi pop songs, Stoltz began recording his own material, performing all the parts himself and drawing comparisons to artists like Brian Wilson and Captain Beefheart. Those songs caught the ear of Monte Vallier, who helped Stoltz clean up and sweeten the recordings for release as The Past Was Faster in 1999. After that, Stoltz upgraded to an eight-track and self-released Antique Glow in a limited quantity of 200 vinyl copies, each one housed in a different, originally designed sleeve by Stoltz himself. Antique Glow was then picked up by Jackpine Social Club for wider release in 2003, which both raised his profile and allowed him to quit his teaching job.

Stoltz found a more permanent home for his music in 2005, when he signed with Sub Pop and released the Sun Comes Through EP. A full-length album, Below the Branches, followed in March 2006. Stolz's band toured that summer as the opening act for the Raconteurs and returned to the studio in 2008 to record his lushest production yet, Circular Sounds. Two years later, he toured with Echo & the Bunnymen and released another layered pop album, To Dreamers, which featured his live band on two tracks. His affiliation with Sub Pop having run its course, Stoltz next spent time behind the scenes as a member of Sonny & the Sunsets and producing albums for the Mantles and Tim Cohen. He returned in 2013 with an album for Third Man called Double Exposure. In 2015, Stoltz found a new sponsor in Castle Face Records, the label founded by John Dwyer of Thee Oh Sees. They released In Triangle Time, a set of songs that blended Stoltz' love of the music of the '60s and '80s, in early November 2015. That same year he collaborated with Sarah Bethe Nelson on her record Fast Moving Clouds. His next musical move came as a bit of a surprise to anyone who didn't know that Stoltz recorded a song-by-song recreation of Echo & the Bunnymen's Crocodiles album in 2001 or that he once had a Echo cover band with Spiral Stairs called Crockodials. In 2016, he joined the Bunnymen as a touring guitarist, playing the songs he grew up loving. That '80s influence became even more evident on Stoltz' next album for Castle Face, 2017's Que Aura.

His latest release, "My Regime" will be out August 2019.





Moral High Horses
Andrew, Albert, Blake, David and Robb
-from San Francisco, CA
-"With psychedelic, saturated visuals and a dreamy melody, it's easy to get lost in the band."
-DoTheBay




Sarah Bethe Nelson
Sarah Bethe Nelson, Rusty Miller,
Ela Jaszczak, Garett Goddard
-from San Francisco, CA
-With her breathy voice and knack for catchy but artful melodies, Sarah Bethe Nelson sounded like a precocious indie pop newcomer with the release of her 2015 album, Fast Moving Clouds. The truth is Nelson was a seasoned veteran of the California music scene when her solo debut finally expanded her reputation outside her hometown. Nelson was born in Sacramento, California in 1977 and grew up in the nearby foothills. In 2004, she formed the roots rock band Prairiedog with Rusty Miller of Jackpot; the group released its first album, To Set Your Calendars on Fire, in 2006, and with the help of musician and producer Kelley Stoltz, cut a second album, The Golden Hour, in 2011. Founded in Sacramento, Prairiedog had settled in San Francisco before they finally called it quits in 2013.

Nelson then found herself with a batch of songs that reflected a different creative direction than her old band had. Many of the tunes were informed by Nelson's job as a bartender at the Mission District tavern the Make Out Room. Teaming with a handful of musicians she'd met through her days with Prairiedog and her nights at the Make Out Room, Nelsonbegan crafting a moody and expressive new sound, and she once again teamed with Stoltz to cut her first solo project.

Fast Moving Clouds was picked up for release by the well-respected California indie label Burger Records, and it immediately made an impression with bloggers and critics, especially the song "Paying," written from the perspective of a woman working at a watering hole confronting a man who has broken her heart and maxed out his bar tab. Her follow-up, Oh, Evolution, was recorded by Phil Manley (the Fresh & Onlys, Moon Duo) and released in early 2017. Her new 2019 album "Weird Glow" came out on Burger Records in June.