Saturday August 17
2019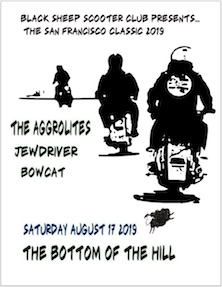 8:30PM

doors -- music at 9

:00

PM




••• 21 AND OVER




$

15

in advance

/ $20

at the door


Black Sheep Scooter Club

presents...


The San Francisco Classic 2019


featuring...


The Aggrolites
www.aggroreggae.com/


dirty reggae


Jewdriver
www.discogs.com/artist/1374775-Jewdriver


punk


Bowcat
bowcatska.com/


Ska, Soul, Rocksteady, Reggae, Funk




---

The Aggrolites


-from Los Angeles, CA


-Blame it on No Doubt or blame it on Sublime, but by the middle of the 1990s, very little of the pop music that was described as ska had anything to do with Jamaican dance music of the early '60s.
Too many bands whose sole connection to the musical style had been a few singles by the Specials or the English Beat got it all exactly backward, with the punk influences drowning out what little Jamaican influence remained: the result was basically Green Day with horns, and it wasn't any good for anyone. If the Aggrolites have a stated mission, it's to remind modern audiences what proper ska sounded like, whether in Kingston in 1963 or in London in 1979. The Aggrolites formed in 2002, originally getting together as the backing band for a one-off Los Angeles show backing Jamaican music legend Derrick Morgan. Gathering members from two minor Southern California reggae acts, the new band consisted of lead guitarist Jesse Wagner, rhythm guitarist Brian Dixon, organist Roger Rivas, bassist J. Bonner, and drummer Korey Horn. The concert was a success, and the band stuck together to record an album with Morgan that was never completed. Emboldened despite the recording setback, the band took the name the Aggrolites ("aggro" being a slang term of the ska-loving skinhead subculture of Britain in the 1960s and '70s, meaning pent-up aggression, and "lites" in tribute to the greatest ska band of all time, the Skatalites) and became the go-to guys on the West Coast ska and reggae circuit, backing a wide variety of golden-age Jamaican and British artists on their American dates, including the great Prince Buster and Culture lead singer Joseph Hill.

The Aggrolites are more than a band they are a movement unto themselves. They carry a banner - one created with their own hands. This banner reads, "Dirty Reggae," and represents their signature fusion of reggae, soul, grit and determination. For seven magnificent years, this dirty reggae bunch has rolled from city to city, across the pond and up main street.




Jewdriver


-from Oakland, CA


-Jewdriver is a punk band from Oakland, California that parodies the band Skrewdriver with Jewish themed versions of Skrewdriver's racist songs.





Bowcat
Vocals: Marcia Leach /
Guitar: Jorge Felix /
Bass: Piņa Lerpe /
Keys: Katie DeRosia /
Trombone: Steven DeRosia /
Sax: Dane Clifford /
Drums: Ricky Gonzalez
-from Phoenix, AZ
-BowCat is a ska/soul project from Arizona, with each of its seven members bringing their own unique piece to the group. Founded in 2015, BowCat played their first show together that December.
This group plays a mixture of original soul infused ska tunes as well as interesting covers of old tracks ranging from dancehall, reggae, soul, and punk rock.