Wednesday August 21 2019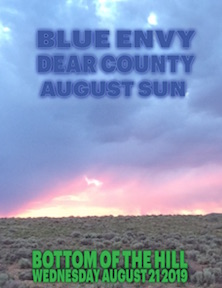 8:00PM

doors -- music at 8:30PM


••• 21 AND OVER




$

10


Blue Envy


www.facebook.com/blueenvyband/


Pop


Dear County


www.dearcounty.com/


California Country Soul


August Sun
www.augustsuntheband.com/


rock n' roll




---

Blue Envy


-from Sacramento, CA




-Blue Envy is a Pop duo based out of Nevada's Great Basin desert, with influences ranging from Burna Boy, Mr. Eazi, and The Clash, to Erykah Badu, Diplo, and The Strokes. An electrified acoustic act, Keva Tanyi assumes the role of lead vocalist and guitarist while Max Landis holds down the supporting vocals and bass. They are currently producing their first set of studio recordings, which are due for release in Fall 2019. In the meantime, you can follow them on Instagram (@blueenvybandofficial) and Facebook for show dates and releases.






Dear County
Arrica Rose, Mark W. Lynn,
Michael Smartt, Steve Boyd
-from Oakland, CA
-Dear County's sophomore release Last Exit Oakland, available this spring (details coming soon) on 1-2-3-4 Go! Records, is an eclectic 12 song offering that seamlessly blends the Oakland based band's unique brand of throwback Rock 'n' Roll, California Country, and 60's Soul. It's a modern take on retro stylings, equal parts hook-filled and dreamlike, laced with heartbreaking vocals, three-part harmonies and gritty reverb-laden guitars. Last Exit Oakland was produced by Raymond Richards (Local Natives, The Wild Reeds, LCD Soundsystem) with Dear County at B-Side Studios in Portland, OR - additional recording by Arrica Rose and Mark W. Lynn at O2 and The Treehouse in Oakland, CA. *

Mark W. Lynn (lead guitar, vocals) and Arrica Rose (lead vocals, guitar) met on a spring evening at the Huntington Beach Library in Southern CA when Arrica was still a teenager and Mark was just a few years older. Her local punk band (Uxby) was opening for his touring band (Uranium 9 Volt, Lookout Records). They had a brief conversation involving their mutual Italian heritage and New York family roots. Fast forward many moons later, they re-met in San Francisco at Hotel Utah under similar circumstances. The stars aligned and their bands once again shared a stage, Arrica playing with her project Arrica Rose & the …'s Mark with his, The Devil's Own. After the show, Mark recalled their initial meeting, much to Arrica's surprise. Within a few months a long distance love began with Arrica arranging to spend a lot more time in the Bay Area (traveling up from Los Angeles). Just like that, Dear County was born.

Mark and Arrica began writing songs intending to start a simple classic country band. But given their vast and eclectic love of many genres their songwriting expanded toward 60's Soul, 70's Rock n' Roll, and California Country while also adding the impossible to avoid Indie Rock influences. Drawing inspiration from artists like Gram Parsons, Eagles, Dusty Springfield, Neko Case, Big Star, and The Replacements the aim of Dear County soon evolved into paying respects to their influences while creating something uniquely their own. The project also expanded into a full band and now includes bandmates Michael Smartt (drums), and Steve Boyd (bass, vocals).






August Sun
Christian Walsh - Lead Vocals/Guitar
Jonny Hampton - Drums/Vocals
Tony Whittaker - Keyboards/Vocals
Dan Knox-Lead Guitar
Brendan Brose - Bass
-from Santa Cruz, CA
-The band was started by singer/songwriter and guitarist Christian Walsh, blending folk, blues, and straight ahead rock n' roll, creating an upbeat, original classic sound with a contemporary grit from the Santa Cruz mountains of California. He is joined by Dan Knox on lead guitar, Brendan Brose on bass, Tony Whittaker on keyboards and backing vocals, and Jonny Hampton on drums and backing vocals.

Together they create a high energy, toe tapping rock n' roll sound of original mountain rock music that will keeps you dancing, and satisfies the music pallet of all ages with a classic sound of an era all but forgotten and an energy that screams ' Rock n' Roll"!