Friday August 23 2019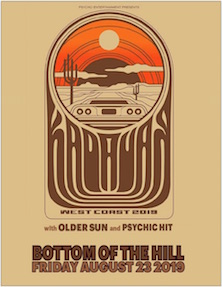 8:30PM

doors -- music at 9:00PM


••• 21 AND OVER




$

20

in advance

/ $25

at the door




Psycho Entertainment

presents...
Kadavar
www.kadavar.com/


psychedelic stoner rock


Older Sun


www.facebook.com/OlderSun/


Psych, Rock & Roll, Heavy

Blues


Psychic Hit
www.psychic-hit.com/hang-n-bang


Hard Rock, Proto-Metal,




---

Kadavar
Lupus Lindemann - Gesang & Gitarre
Simon "Dragon" Bouteloup - Bass
Tiger - Drums
-from Berlin, Germany
-"It is obvious that people like to put you in a box, and it is our job to create our own drawer and label it Kadavar"

For the few lucky bands who live to see a career blossom out of their passion, even fewer manage to avoid the hopeless creative stagnation that happens when hobby turns into "work". We all know that as soon as rock n' roll starts to resemble going to the office, there are no winners – everybody's screwed. As the German trio Kadavar – arguably the hardest working band in European rock – stand on the brink of releasing their fourth full length album, they look back at a seven year long career of doing things the other way around. Rather than this being the time to start talking about how music is just another way of paying the bills, they could not be more in tune with the main reason anybody starts a band in the first place – liberation.





Older Sun
Kelsey Guntharp, Vocals
Chris Mulhauser, Guitar
Mike Baptista, Guitar
Bryan Coons, Bass
Pat Crawford, Drums
-from San Francisco, CA
-Older Sun Completes Recording of Two New Songs with Revitalized Lineup – Seeks Label for Worldwide Release

San Francisco-based band Older Sun has just recorded two new heavy psychedelic blues-rock originals at Ruminator Audio with veteran Bay Area engineer and producer Monte Vallier. The recordings are the first offering from the new five piece lineup featuring Kelsey Guntharp on lead vocals and Mike Baptista on guitar, with founding members Bryan Coons on bass, Chris Mulhauser on guitar, and Patrick Crawford on drums.

Older Sun has been road testing the new material on stage supporting bands such as Lucifer (SWE), Haunt, Earthless, Feral Ohms, Hot Lunch, and more. The new songs continue the bands trajectory of honoring the forebears of leaden heavy rock like James Gang, Mountain, and Grand Funk — with the addition of the powerful assertive vocals of Kelsey Guntharp in the vein of Janis Joplin and the newly infused twin guitar attack hailing the mighty Thin Lizzy and Scorpions.

Older Sun is considering labels for release of the "Sister Darkness" EP on vinyl and digital formats. The band's previous output includes four slabs of vinyl – a 2-song self-titled 7-inch on Valley King Records, a split 7-inch also on Valley King with Swedish rockers Spiders, Vol.4 of the "Sweet Times" compilation on Who Can You Trust? Records out of Germany, and a five song 12-inch on Anchorite Recordings released in 2018.

Older Sun has been called "a band out of time, that may be 'retro rock' now, but if it was 1975, these guys would be ruling the arenas, and playing and partying with the best of them." – Aquarius Records




Psychic Hit
Ariana Jade - vocals, violin, synthesizer
Andrea Genevieve - lead guitar, synthesizer
Jake Palladino - guitar, synthesizer
Melanie Burkett - bass guitar
Justin Divver - drums
-from Oakland, CA
-Oakland, CA based hard rockin proto-metal sweetheart band, Psychic Hit, was formed in 2017 by guitarist Andrea Genevieve (Queen Crescent, Purple Rhinestone Eagle) and vocalist/violinist Ariana Jade (Hedersleben, Nik Turner's Hawkwind). Having met through the thriving Bay Area rock n roll network, the tenacious pair began to dream up a project that fused their wide-ranging tastes in music. What resulted was a band that would combine the raw power of early Judas Priest and Scorpions, the melodic sensibilities of Fleetwood Mac, and the esoteric appeal of lesser known acts such as Lucifer's Friend and Flower Travellin' Band.

In 2018, the duo was joined by bassist Melanie Burkett (Ovvl) and drummer Justin Divver (Funeral Chant). With the talented rhythm section locked in, the four musicians began to embark on a songwriting enterprise that resulted in their first, self-recorded demo in the fall of that year. After the demo was recorded, the band welcomed fifth member, Jake Palladino (Pins of Light, Hightower), to join Andrea Genevieve on guitar.

Although Psychic Hit's sound is heavily influenced by both 70s greats and rarities, the band is anything but an anachronism. Like modern contemporaries such as Kadavar, Lucifer, and Hällas, Psychic Hit seeks to recast rock music in their own image, rather than to just simply imitate eras past. In an age where the dark forces of monotony and monocracy loom large on the horizon, Psychic Hit appeals to their listeners to embrace the regenerative, communal power of rock n roll.