Sunday August 25
2019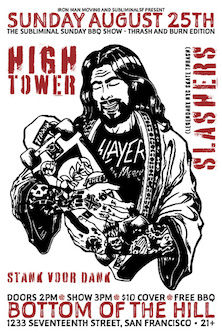 2:00PM

doors -- music at 3:00PM


••• 21 AND OVER




$

10




Iron Man Moving & Subliminal SF

presents...


"The Subliminal Sunday BBQ"


Thrash & Burn Edition




Afternoon BBQ Show: Free BBQ food!


Hightower


www.facebook.com/hightowersf/


metal thrash hardcore


Slashers


www.facebook.com/slashersbk/


from NYC




Punk, Thrash, Hardcore, Skaterock


Stank Voor Dank
www.facebook.com/stankvoordanksf/


punk rock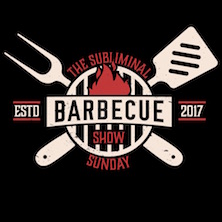 ---

Hightower
shane, jake, dave
-from San Francisco, CA


-"Formed in San Francisco in 2001 Hightower are still three friends who like to play music and skate together".






Slashers
Blake Charlton - Guitar/Vox
Shane Medanich - Drums/Vox
Jesse Adelson - Bass/Vox
James O'Brien - Lead Vocals
-from Brooklyn, NY


-Authentic, street born crossover skate thrash, brimming with hooks and dripping with forgotten punk melodies. You'll find yourself singing along in seconds. Fresh out of Brooklyn and forged by members of Ramming Speed, Hightower, and Prostitution who had a need for post rehearsal skate sessions. We all know that skating and satan goes hand and hoof. You won't rock harder than SLASHERS!






Stank Voor Dank
Foz - Vox
Kris - Guitar
Rody - Bass
James - Drums
-from San Francisco, CA


-SF punk rock! Members of Texas Thieves, Fracas, High & Tight, Go Time!, Retox, Brat Pack!