Sunday
September 1
2019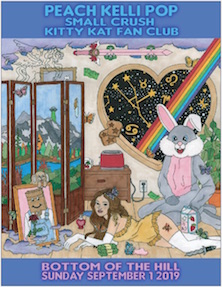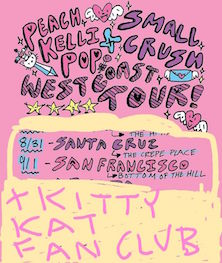 7:30PM

doors -- music at 8

:00

PM




••• ALL AGES




$

12

in advance

/ $14

at the door


Peach Kelli Pop
www.peachkellipop.com/


Rock


Small Crush
www.facebook.com/smallcrushh/


indie alternative


Kitty Kat Fan Club
www.facebook.com/kittykatfanclub/


Funky Metal




---

Peach Kelli Pop


-from Los Angeles, CA


-PEACH KELLI POP is a band from Los Angeles, CA by way of Ottawa, Canada and was founded by multi-instrumentalist and songwriter Allie Hanlon. The band is known for playing Ramones-structured rock songs: Fast tempos, 4/4 drums, layered with loud guitars, and laden with immediate, infectious vocal melodies. Hanlon's songwriting is unique in how it encompasses great emotional profundity and the use of the abstract and imagination.

Since Hanlon created Peach Kelli Pop in 2010, she has released 4 albums, a handful of 7''s and tapes, and toured extensively (including annual trips to Japan).

"Hanlon's voice: sweet yet detached like the fading flavor of a watermelon Jolly Rancher long crunched and swallowed" -Pitchfork.com

"Sounds like if chiptune foremother Manami Matsumae composed California surf-punk for a Nintendo soundtrack inspired by Shonen Knife playing a sock hop."
-LA Weekly





Small Crush


-from Oakland, CA




-Small Crush formed when lead-singer, songwriter, and bassist Logan Hammon felt that her band wasn't giving her enough freedom to write her own songs. She stole the lead-guitarist Jackson Felton, knocked on the drummer Will Scherer's door down the street and started a new project out of their garage. The trio, what was to become Small Crush, started making music inspired from Hammon's voice memos and titled from a self-professed "inability to crush on someone for a long time, so lots of little crushes." Not long after the band's genesis, Hammon and Felton recruited rhythm guitarist Thomas DeBourbon and started playing house shows, coffee shops, and small venues. The effect of Hammon's virtuosic lyrical introversion over playful riffs evokes Frankie Cosmos and Waxahatchee. The music seems to be derived from many small crushes, evoking a sincere and intense conviction too often lost in adulthood. -Berkeley B side magazine






Kitty Kat Fan Club
Casey, Justin, Brianda, Sim,
Jonathan, Mike 1, Mike 2
-from San Jose, CA
-Kitty Kat Fan Club is a band helmed by Mike Park of Skankin' Pickle and Asian Man Records fame and proves to be a very different project from his ska roots. While the music is very much indie and punk rock-influenced pop à la later Saves the Day albums (as evidenced by the palm-muted power chords of tracks like "You Got Me Modernized" and the discordant chord changes in "Every Island"), most of the lyrical content fits firmly within the twee genre, expounding greatly at times on love given and sometimes unrequited.

The lyrics reach a point that they are a little too cute and precious at times, as seen in tracks like the title track "Dreamy Little You," where the singer outlines various times of day at which she loves the subject of the song (spoiler – it's all times of day) and "Happy Now, Loving You" with an anthemic chorus that contains a straightforward marriage proposal. However, the band's lyricists do find opportunities to expand on subject matter that requires slightly more self-analysis, such as "I'm Loving You More Than I Should" and "Giving Up the Worries for a Chance to Be Free".

While it can't be said that anything on this album does much that is new, if the idea of overtly sentimental lyrics about love and romance spread over a backdrop of well-executed, by-the-numbers pop punk sounds good, this is the album for you. And while there is nothing groundbreaking here, the band does manage to maintain a unique identity in its sounds, even finding room for Mike Park's saxophone at times.