Wednesday
September 4
2019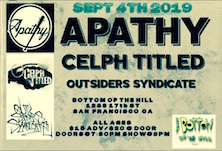 7:30PM

doors -- music at 8

:00

PM




••• ALL AGES




$

15

in advance

/ $20

at the door




Paragraphs of Murder Tour


Apathy & Celph Titled
www.facebook.com/ApathyDGZ/
www.facebook.com/celphtitled/


Hip-hop




plus...

Johnny Slash w/Dina Brass

Novatore

Curt Sharp

Policy

Ill Zakiel


Outsider's Syndicate
outsiderssyndicate.com/


Hip Hop





---

Apathy & Celph Titled


-from Connecticut/Tampa, FL


-Being the "King of Connecticut" might not be hip-hop's most illustrious title, but there isn't a state, country or world wide web where Apathy's rap royalty doesn't reign supreme. For nearly 15 years, the Demigodz and Get Busy Committee co-founder has wowed audiences and hip-hop purists around the globe with his breathtaking brand of ferocious and multi-stylistic lyrics. While his production is too often slept on, beat placements with Cypress Hill and others, as well as his work with GBC, Ap's work behind the boards is getting extremely hard to ignore
Celph Titled
Floridian word master Celph Titled began his professional entrance into the rap game as a teenage lyricist and local production staple during the late 90's indie 12-inch vinyl boom. Being a member of, and producing for, a number of boundary-pushing Tampa rap crews at the time, he networked heavily to take his music worldwide and began contributing beats and rhymes to a non-stop tirade of vinyl singles during a time when the 12-inch single market was key in building a cult fan base. Now embarking on a focused solo career with over ten years of industry know-how, respect, international touring and die hard loyal fans, the "Celph"-made independent pastor of punchlines sets out to solidify his stamp on the scene as a major factor once and for all.





Outsider's Syndicate


-from San Francisco, CA




-The Bay Area's Roughest Battle Squad. Hardcore Hip Hop with respect to the 4 elements. Members include: Lmt Break, the IMF, Thor, and Decrepit 1.