Thursday September 12 2019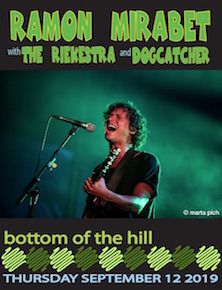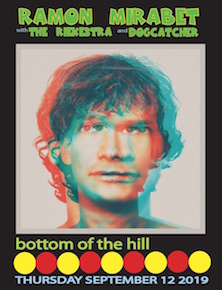 7:30PM

doors -- music at 8:00PM


••• ALL AGES




$

20


Ramon Mirabet


ramonmirabet.com/


Pop


The Riekestra


www.riekes.org/riekestra


soul, dance, and rock


Dogcatcher
www.facebook.com/dogcatcherband/


Indie-Soul/Americana/Rock




---

Ramon Mirabet


-from Spain


-Ramon Mirabet spent over six years busking in Europe´s main cities but it was in Paris, more specifically on the steps of Montmatre that became one of his favourite places to perform. Thanks to his improvised performances Ramon made enough money to record and produce his first álbum.

In 2013 Ramon Mirabet recorded his first songs for the "Happy Days" ( Warner) album in which he mixed drive, energy and his passion for the classics of Rock, Blues and Jazz.

In 2016 he realeased his second álbum "Home Is Where The Heart Is" ( Warner) which gave Ramon a great leap forward onto the big stage. The tour promoting his second álbum was seen by over 140.000 people in more than 90 concerts.

In 2019 Ramon Mirabet presented the songs from his third álbum "Begin Again". A new sound with a compelling narrative that is an enourmous step forward that opens up unlimited options for one of the most promising artists of the moment. An illustrious concert at the Palau de la Música Catalana in Barcelona, that will certainly go down in history , marks the beginning of a new tour that promises to be one of the most imortant of the season.

You will be surprised by his husky voice with tinges that sketch a universe made up of a multitude of experiences and emotions. You will be transmitted by his energy and captivated by the aura of a singer destined to be a musical reference of our time. His songs stem from personal experiences which have turned his life into an exciting adventure.





The Riekestra


-from Menlo Park, CA


-The Riekestra is a student-run cover band, specializing in soul, dance, and rock tunes, from Stevie Wonder and The Beatles, to Maroon 5 and Bruno Mars.

The Riekestra formed at the Riekes Center in 2012, when the monthly student concerts became so popular that there were too many songs for the staff to learn on their own!

So, a small group of advanced high school music students started learning a handful of songs every month and got up on stage and backed up their fellow students. They had so much fun doing it, and they were so good, that they took the show on the road, gigging locally in the Bay Area on a regular basis.

In early 2014, Guy Nohra (co-founder of the Barcelona expeditions) came to Aidan Young (co-founder) with a crazy idea: what if we could take the band on a summer tour to Europe? A few months (and hundreds of hours of rehearsal) later, the Riekestra was playing Beatles' songs on the beach in the French Riviera.

Since then, over 60 different band members have toured with the Riekestra, both locally and in France and Spain. They group is held together by the motto: "I got your back," and we're fiercely dedicated to doing whatever we can to support each other and make the best music every night.





Dogcatcher
Andrew Heine: Rhodes Piano, Guitar, Vocals
Jared Milos: Bass
Ramon Esquivel: Drums
Joey Guthrie: Percussion & Keys
Geoff McCann: Guitar
-from San Jose, CA
-After a stint with the Marines in the Iraq war, Andrew Heine chose the artist's path, going as far as to live out of his car in San Diego, selling his paintings for burrito money. Andrew formed Dogcatcher during that time, eventually relocating to his native San Francisco Bay Area. Dogcatcher features Heine on electric Rhodes piano and vocals, Jared Milos on bass, Joey Guthrie on percussion, Geoff McCann on guitar, and Ramon Esquivel on drums.

Dogcatcher took their time to carefully craft their most recent album, "Dogcatcher" (2016), with producer/engineer Aaron Hellam in Oakland, CA. While the album veers from horn-driven southwestern feels to bouncy synth-rock to raucous blues stomps, there is a cohesive string of danceable head-bobbing beats that ties it all together. The single "My Sunshine" was featured on Live 105's Sunday-night Soundcheck show.

Dogcatcher has taken their hybrid of folk rock and hip-hop beats to audiences at the Fillmore Poster Room, Slim's, The Elbo Room, Bottom of the Hill, The Art Boutiki, The Ritz, The Blank Club, San Pedro Square and many other great venues.

Dogcatcher was chosen twice as one of the top-20 local bands in the Bay Area by Modern Rock radio station Live 105 in 2012 and 2013, and has played acoustic sets in the Poster Room of the legendary Fillmore during performances by Wilco, Haim, The Eels, Spiritualized, The Dandy Warhols, Conor Oberst (Bright Eyes), Sharon Jones & The Dap Kings, and Crosby, Stills & Nash.