Sunday September 15 2019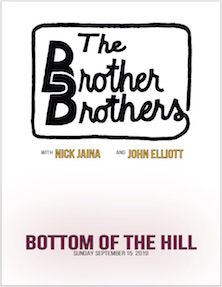 8:00PM

doors -- music at 8:30PM


••• 21 AND OVER




$

12

in advance

/ $15

at the door


The Brother Brothers


www.thebrotherbrothersmusic.com/


Folk


Nick Jaina


nickjaina.com/


folk pop rock


John Elliot
thehereafterishere.com/


folk rock indie singer-songwriter




---

The Brother Brothers
Adam and David Moss
-from Brooklyn, NY
-The Brother Brothers carry the folk tradition for a new generation. Identical twins David and Adam Moss honor contemporary aches with the nostalgic tenderness of another time on their debut full-length album, SOME PEOPLE I KNOW, out October 19, 2018 on Compass Records. Their stunning songcraft blends masterfully gentle guitar, cello and five-string fiddle with the sublime sort of two-part harmonies only brothers can carry. Their palpably fraternal stage presence and wonderfully familiar heart have earned repute among a modern folk scene; The Brother Brothers have recently opened for Big Thief, Lake Street Dive, Shakey Graves and more.

The album's title, SOME PEOPLE I KNOW, refers to the personal nature of these songs. As David explains, "I think every song on the album is about a person or a character, and in a way, it's a reflection of ourselves." For example, "Mary Ann," written by David, is an encouraging ode to a friend with depression. "Banjo Song," written by Adam, conveys a conversation with someone who gives up playing an instrument after a hurtful breakup. Though he's usually on fiddle, Adam plays banjo on the track; throughout the album, David plays guitar and cello.

Recorded at Mark Ettinger's Lethe Lounge in New York City with producer Robin Macmillan and engineer Jefferson Hamer, The Brother Brothers capably capture a modern snapshot of their surroundings. Yet, SOME PEOPLE I KNOW retains a timeless feel – something that the brothers were aiming for.

"I just want people to listen to it once and want to listen to it again," David says of the album. "And every time they listen to it, I want them to find something new and in some way relate it to themselves. Whether they're listening to it today or in 40 years, I hope it will make them feel just the same."




Nick Jaina


-from Portland, OR


-Nick Jaina has been a beloved figure in the Portland indie music scene for the past fifteen years. His new album Black Rainbow explores the depths of empathy for vampires and redwood trees with stark and melodic electric guitar arrangements. Nick has written feature film soundtracks and co-founded a ballet company in New York City. His 2015 memoir, Get It While You Can, was a finalist for the Oregon Book Award. His shows are a unique mixture of storytelling and music, like Radiolab meets Radiohead.






John Elliot


-from California


-> John Elliott writes gripping stream-of-consciousness songs that often take unexpected turns en route to delivering a powerful message. Chuck Schiele of The San Diego Troubadour wrote about Elliott's lyrics: "They get in, make their statement, kick you in the teeth, and get out before they start talking too much...And this lends to the urge of rolling any track to its beginning for another spin."
>
> Elliott began playing at various Hollywood venues in 2001, had expanded throughout southern California by 2003, and later became an international touring artist. Now based in San Francisco, he has performed all over the world and every state except Hawaii. His music has been featured on hit television programs including Grey's Anatomy and Californication, as well as in PASTE Magazine, on NPR, and Neil Young's "Living With War" website. The lead single from his most recent album, 2018's "North Star," was featured in a Grammy.com playlist of best songs to stream on New Year's Eve (alongside Prince and Beyonce). John has performed on the mainstage of the Fayetteville Roots Festival, Kerrville Folk Festival, Subdued Stringboard Jamboree, and others. He also performed the role of Hades in Anais Mitchell's California tour of her folk opera Hadestown (alongside Anais, Thao Nygeun, and Sean Hayes).
>
> In the last decade and a half, he has released ten genre-less studio albums on his own record label (Garland Lane) to an ever-expanding audience. John also produces an almost monthly podcast of sorts called "Audiodes." Audiodes are impressionist audio collages and reflections on American culture, news, and events. They can be streamed wherever podcasts are streamed.
>
> John believes in the American Dream that never has been and never will be and communicating with our so-called enemies.