Sunday September 22 2019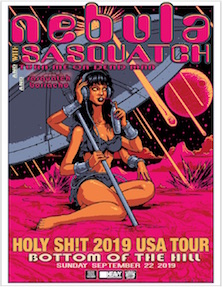 8:00PM

doors -- music at 8:30PM


••• 21 AND OVER




$

15




Subliminal SF

presents...


Nebula


atomicritual.com/


psychedelic rock'n'roll


Sasquatch


www.sasquatchrock.us/


stonerrock


Turn Me On Dead Man
www.facebook.com/TurnMeOnDeadManSF/


DeepSpace SuperRock




&)

Sasquatch Borracho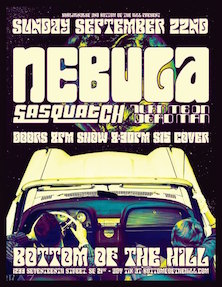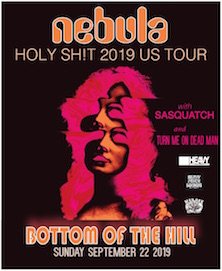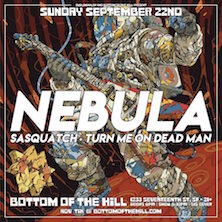 ---

Nebula
Eddie Glass
Tom Davies
-from L.A. / USA
-Guitarist Eddie Glass and drummer Ruben Romano formed NEBULA in 1997 after breaking away from desert rock pioneers Fu Manchu, eventually recruiting bassist Mark Abshire. The power trio specializes in feedback-drenched heavy rock, incorporating liberal doses of Black Sabbath riffery, psychedelia, and space rock. The band released a number of EPs before moving onto full-length albums like 1999's To the Center and 2001's Charged. They've mainly distinguished themselves as a very hard-working live unit

NEBULA creates pure guitar-driven, conscious expanding rock for the 21st century. They are a culmination of their rock forbearers such as Jimi Hendrix, MC5, The Stooges and Mudhoney turned up a notch, taken to the next level and blasting through space. NEBULA spread their gospel through their music and what they are preaching will leave the congregation on the floor.

In 2017 the band decided to reissue three of their crucial early works via Heavy Psych Sounds Records: 1998's Let it Burn, 1999's To the Center and 2002's Dos EPs, which includes the material originally released on 1999's Sun Creature and a Nebula/Lowrider split.

Followed by the re-release of NEBULA's Charged and the special release of Demos & Outtakes '98-02 in early 2019, this summer and after 13 years will be seeing the band return with not only a new line-up but also their brand new full-length, a news that will definitely make every desert rock-heart beat faster.





Sasquatch
Keith Gibbs - Guitar, Vox, Spaghetti Sauce;
Craig Riggs - Drums, Harmonies, Coffee Beans;
Jason Casanova - Bass, Paperwork
-from Los Angeles, CA
-Sasquatch is a rock band from Los Angeles, CA. They tend to sip on influences from 70's metal, rock, and psychedelia. Their songwriting approach is clear-cut; keep the focus on the hook.

The band was born in Philadelphia in 2000 and moved to Los Angeles in 2001 after Keith Gibbs (guitar, vox) joined up with Detroit natives Rick Ferrante (drums) and Clayton Charles (bass). Upon Clayton's departure in 2007, the guys recruited Chicagoan Jason Casanova (Behold! The Monolith, Tummler) to join the fold. We arrive at 2017 and Dr. Craig Riggs (Roadsaw, Kind, Antler) is now shellacking the kit when he's not brewing coffee or watching the Red Sox.

The band's music has been featured on a variety of movies, television shows, and video games including the reissue of Clerks, FX's original hit series Sons of Anarchy, A&E's Dog The Bounty Hunter, Jersey Girl, CW's The Supernatural, and MTV's Viva La Bam, Bam's Unholy Union, and Rob and Big, NHL 2005, American Chopper, and Monster Garage.

After shaking some walls with not one, but two, closely packed studio albums (the self-titled debut and "II") in 2004 and '06, the power trio went subterranean until 2010 before resurfacing with a new lineup and propulsive third opus, "III", followed up by the straight-ahead rocker, "IV", in 2013.

The band's latest album, Maneuvers, was released in June 2017 and features the work of Riggs, behind the kit. This is the band's most concise work to-date. Extended jams were stripped down to the meat and potatoes. Short and sweet is the path looking forward. Andrew Schneider (NYC) also returned behind the boards this round. You may recognize the name as he also provided the mixes on "II". What fans hear is arguably the gents most mature and inspired song-set released, chunked with both heartwarmingly familiar moments – but all of it heavy on the heavy, as they say…always. Unprecedented attention was also devoted to spinning new yarns out of those evergreen rock and roll stories about love lost, hate found, relationships built and lives trashed, homes wrecked, etc.

Coming off their first Australian tour, look for the band to be gearing up for extended US dates later in the Summer of 2019 and its next European tour in the early Spring of 2020. All's fair in Love and Doom.





Turn Me On Dead Man
Mykill Ziggy
Christopher Lyman
Nick Doom
Jeff Vengeance
Jonesy Daysleeper
-from San Francisco, CA
-Put on your headphones, turn up the volume, and let Turn Me On Dead Man turn you on to a place where Rock is religion, and religion is LOUD!
Turn Me On Dead Man combines Heavy Metal and Psychedelia to forge a music that is both transcending and unforgettable. incredibly hard rocking!