Saturday September 28 2019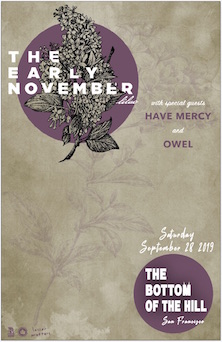 7:00PM

doors -- music at 8:00PM


••• ALL AGES




$

17

in advance

/ $20

at the door


The Early November


www.theearlynovembermusic.net/


Indie/Emo/Alternative


Have Mercy


www.wearehavemercy.com/


alternative indie rock


OWEL
www.owelband.com/


Alternative




---

The Early November
Ace Enders
Jeff Kummer
Joseph Marro
Sergio Anello
Bill Lugg
-from Hammonton NJ
-The members of the Early November were young enough to have grown up with the Drive-Thru Records sound, a formula that incorporated sensitive emo, pop, and punk revivalist amalgams with a bit of post-hardcore grit. The band first emerged in 2000, fighting to secure shows in their busy South Jersey scene while hoping to land a deal with Drive-Thru. By 2002, they succeeded when label figureheads Richard and Stefanie Reines signed vocalist/guitarist "Ace" (Arthur) Enders, bassist Sergio Anello, drummer Jeff Kummer, and guitarist Joseph Marro on the strengths of their demo and solid buzz. They made their label debut with the For All of This EP later that year. Promising appearances on the Warped Tour's Drive-Thru stage that summer spread the word, and by late 2003 the band's full-length debut, Room's Too Cold, was released.

It was a particularly lush take on the Drive-Thru sound, with strings and ballads and a focus on the rich vocal presence of Enders. The band toured extensively behind the record; Enders later issued the first effort from his solo project I Can Make a Mess Like Nobody's Business in late 2004 and briefly toured behind the disc. Enders then turned back to the Early November, and writing began that summer for their follow-up sophomore release. Recording commenced in February 2005 with a fifth member on board, guitarist Bill Lugg. The band also released a summer split EP with I Am the Avalanche, Vinnie Caruana's post-Movielife project. The resulting The Mother, the Mechanic, and the Path was eventually issued in July 2006 as an ambitious triple album. Boasting a rock-oriented disc ("The Mechanic"), a more mellow, stripped-down disc ("The Mother"), and a third character-based soundtrack with dialogue to intermingle among the first two ("The Path"), the album debuted at number 31 on the Billboard Top 200. Various rounds of touring followed. In March 2007, however, the bandmembers announced their plans to go on an indefinite hiatus after the completion of scheduled dates that year.

Following a four-year hiatus, the Early November reunited for a show in Philadelphia in late 2011. Additional shows were soon added and the bandmembers revealed they had signed with Rise Records to record their first album since 2006. Despite the time off, the band's third album, In Currents, fared well, reaching number 43 on the Top 200 and number six on the Independent Albums chart upon its 2012 release. Their fourth album, Imbue, arrived in the spring of 2015 and was once again produced by Enders. The Early November's next release was in the form of a career-spanning retrospective called Fifteen Years. Released in early 2017 by Bad Timing Records, the album featured new acoustic recordings of songs from throughout the band's history. ~ Johnny Loftus & Timothy Monger, Rovi




Have Mercy


-from Baltimore, MD


-Too often bands are concerned with creating the perfect album rather than the right one. HAVE MERCY have tried the former in the past, but on MAKE THE BEST OF IT, due out TK on Hopeless Records, they succeeded in the latter.

During the writing and recording of Make The Best Of It—a seven-month affair with producers Paul Leavitt (All Time Low) and Brian McTernan (Thrice)—Swindle made sure to internalize the essence of Have Mercy and let that guide the songwriting. In fact, this self-reflection led to something unprecedented for the singer: scrapping an entire album's worth of songs and rewriting the whole thing from scratch in the studio.

In the end, this patience was rewarded. Make The Best Of It is all at once raw and composed, lyrically heavy but brimming with indelible melodies. It balances soaring ballads like "Baby Grand" and "Ghost" and riff-heavy, full-throated "Smoke and Lace" and "Begging For Bones" with ease, placing Have Mercy somewhere between the emo scene they came up in and wider rock landscape that's teeming with opportunities.

Gearing up for the release of their forthcoming album The Love Life, alt-emo outfit Have Mercy has just released their second new single.
Following up where they left off with the upbeat love track "Clair," the band has returned with a new pop-laced single titled "Heartbeat."
Commenting on the track, vocalist/guitarist Brian Swindle shares, "'Heartbeat' was written in 2 days while we were on tour. I sat in a lake house as the sun was setting and creatively a poppy song came to life and in the studio, Matt Squire helped us develop it into this cool rock song. It reminds me of a Jimmy Eat World track, which is pretty great in my eyes.".




OWEL


-from New Jersey


-OWEL is comprised of Jay Sakong (lead vocals, guitar, keys), Nunzio Moudatsos (vocals, bass), Seamus O'Connor (vocals, guitar, keys), and Ryan Vargas (percussion).

The band's third full-length album, Paris, was released on March 29, 2019. The album was co-produced by Sakong and Gates vocalist, Kevin Dye. Paris is the follow-up to their breakout second album, dear me (2016), Every Good Boy (EP, 2015), and the band's debut, self-titled full-length (2013). Featuring delicate, dreamy vocals, elegant string arrangements and a tasteful touch of electronic elements throughout, the band has created a truly stunning sound that is all their own and simultaneously feels classic and modern. On Paris, dramatic crescendos and dynamic soundscapes weave behind ethereal vocals, gracefully leading listeners on a phenomenal sonic journey of reflection, curiosity and contemplation.

"When we made these songs, the only true guidelines that we had in place were that we wanted them to sound bigger than anything we've done before, and that we wanted the overall palette to be super organic. While we dipped our toes into the world of synths and drum machines with the last record, this record was more about us diving back into a more lush, orchestral sound. Even if a song had lots of synths, we wanted those elements to sit and blend with the string section so that it felt like one big warm blanket pulled over the song. Anytime we would even think about using a synth to fill a space in a song, we would try to find a way to make something organic do the job instead. I don't think I've even seen a French horn in person before making this record. It's a funny looking thing."

To date, OWEL has shared stages with the likes of Minus the Bear, Foxing, Mae, A Lot Like Birds, and Northern Faces, as well as having performed at festivals such as Firefly, Gentlemen of the Road, SXSW, CMJ, and Northside Festival. The band has also been noted as a band to watch by Pitchfork, NPR, Grantland, Noisey and more.