Thursday October 3 2019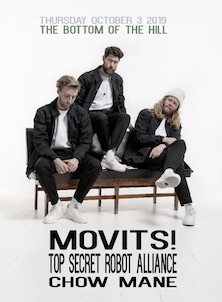 ••• 21 AND OVER




$

15

in advance

/ $18

at the door


Movits!
www.movits.se/


swing hip hop


Top Secret Robot Alliance


topsecretrobotalliance.bandcamp.com/


pure dance electronic


Chow Mane
www.chowmane.com/


Hip-Hop




---


Movits!
Johan Jivin' Rensfeldt
Mördar-Anders Rensfeldt
Jocke 'OneTake' Nilsson
-from Luleå, Sweden
-Movits! has long been recognized for their cross-over music and for the social commentaries in their lyrivcs, which always feels relevant and carefully balanced. Now they are back with modern touch but with the same significant sound and as always with a danceable mix of horns and heavy beats.

Ten years after the debut with "Äppelknyckarjazz", the band is releasing their fifth album, the double album "V", where the first album consisting of seven tracks and will be released on November 1st 2018. The second album will be released in the spring of 2019.

"Doing double albums is the most modern thing you can do in today's EP society. We found ourselves in a creative flow that we couldn't put a lid on. "V" is a maximalist homerun with a classic Movits! sound, but in a new suit - it's like a horde of elephants at the carnival in Mississippi!






Top Secret Robot Alliance
Lucious Sandstone - guitar, crucial harmonies, soft yet edgy flair
Dion Thunder - bass, beats, synth, sultry chants, the best power thrusts this side of LV-426
-from San Francisco, CA
-There's nothing funny about seriously good dance music.





Chow Mane


-from San Jose CA


-Like a top chef, Bay Area rapper and producer Chow Mane is known for his diverse, unorthodox, but carefully crafted art. Sometimes sweet and sometimes bitter (but always tasty), the flavors in Chow Mane's music range from psychedelic and melodic to gritty and raw. Chow Mane combines infectious delivery, playful vocals, and complete soundscapes to create a fine balance between West Coast hip-hop and experimental pop. His first independent album, SIMMERING, is set to release April 26, 2019.
Chow Mane's 2017 debut EP, Mooncakes, has been considered a landmark release in Asian American hip-hop. A string of subsequent singles ranging from lo-fi R&B to bouncy trap have solidified Chow as a refreshing, versatile artist.