Friday
October 25
2019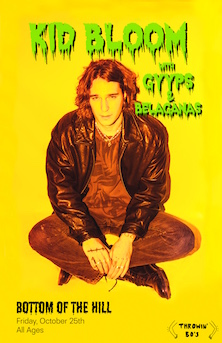 8:30PM

doors -- music at

9:00

PM




••• ALL AGES




$

13

in advance

/ $15

at the door


Throwin' Bo's

presents...


Kid Bloom
www.kidbloommusic.com/


Indie Pop


Gyyps
soundcloud.com/gyyps


Hip Hop & Rap


Belaganas
www.belaganas.com/


alternative hip-hop




---

Kid Bloom
-Lennon Kloser
-from Studio City, CA
-LA's Kid Bloom, aka Lennon Kloser, has released his new EP Lemonhead, available to stream & purchase now on Spotify, Soundcloud, Apple Music, & iTunes. The EP includes the latest single "EVRWNDR," which Ones To Watch called a "delectable single" and "pure indie goodness." "Stream / Listen here: https://smarturl.it/kidbloom"
The Los Angeles-bred singer-songwriter confesses that the six-song album was written during a time of self-reflection. As a result, the lyrics that make up Lemonhead are by far the most honest Kloser has ever written. The title track shows Kloser's vulnerable side as he puts his insecurities on full display, opening up about the things in his life he thought he was controlling but wasn't, like substance abuse and negative thoughts.
"Lemonhead, was inspired by a self reflection period in my life where I completely drained myself of love and let my morals stray a bit too far from me," explains Kloser. The record's closer, "CIRCLES," includes Kid Bloom's first feature from frequent Kendrick Lamar collaborator, Bekon.
Since his debut release "Different State of Mind," Kid Bloom has amassed over 40 million streams. His single "Electric U," can be heard in the 2016 feature film Independence Day Resurgence. Kid Bloom is fresh off a sold out West Coast tour with Summer Salt, and recently opened for Keuning (Dave Keuning of The Killers) at The Roxy in Los Angeles. He also spent time on the road with The Neighbourhood and The Regrettes last fall.





Gyyps
Gypsy Burns
-from Canoga Park, CA


-GYYPS is a rapper/producer from Canoga Park, CA. Since the release of his first project 'Canoga Park EP' in 2015, the 23-year old L.A. native shows versatility across five vibrant mixtapes and other features. GYYPS showcases lyricism and strong melodic hooks in a variety of styles while documenting his come up story and evolution from the very start.






Belaganas


-from Phoenix, AZ




-Belaganas is a band formed in Phoenix, Arizona that performs alternative hip-hop and bedroom pop. Formed by frontmen and vocalists Joey J and Shanker, the band also features drummer Nick Wille, and are known for their captivating live performances and emotionally charged music.