Wednesday October 30 2019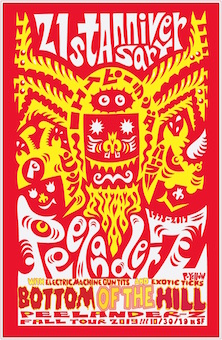 8:30PM

doors -- music at 9:00PM


••• 21 AND OVER




$

12

in advance

/ $15

at the door
Peelander Z
peelander-z.com/


Japanese action comic punk


Electric Machine Gun Tits
www.electricmachineguntits.com/


Rock n Roll - Punk


Exotic Ticks


(of

The Phenomenauts, The Lumerians,


&

Electric Chair Repair Co.

)




post-molt bug rock




---

Peelander Z


-from New York NY


-PEELANDER-Z, the Japanese Action Comic Punk Band based in NYC, was originally formed in 1998 by Peelander-Yellow, Peelander-Red, and Peelander-Blue, after meeting in New York City (although they'll tell you they're all from the Z area on the planet Peelander). Peelander-Green was welcomed in July 2008 after Blue left the band.

Peelander–Z has appeared at major music festivals including Bonnaroo and the Vans Warped Tour and has also been featured on TV programs such as VH1's "Best Week Ever" and Comedy Central's "Upright Citizens Brigade" among others. The band has also been covered by SPIN, Rolling Stone, Village Voice, NPR and The Onion among many others.

At its live shows, Peelander–Z guarantees intense audience participation and a chance to exercise. You'll see the band in colorful costumes reminiscent of Japanese anime, though they describe their outfits as their skin. You'll also see The Red Squid, human bowling and all around insanity. A Peelander–Z performance is a rare occasion for the entire family to rock out and have a great time.






Electric Machine Gun Tits


-from San Francisco, CA


-ELECTRIC MACHINE GUN TITS are a two piece Rock n Roll - Punk duo, based out of the San Francisco Bay area since the winter of 2015.
Naoko Nozawa on lead vocals and synth.
Tora Fujimoto on guitar and vocals.
They have toured New York, Spain and have done three summer tours through Japan in 2016, 2017 and 2018.
ELECTRIC MACHINE GUN TITS have shared the stage with GUITAR WOLF, PUFFY AMI YUMI, SHONEN KNIFE,
THE 5.6.7.8's, LOLITA No18, REVEREND BEAT-MAN, BOB LOG III and many others.

They released their 1st album- "LOVE AND PUKE," in June 2017, 2nd album- "PINK GUTS," in June 2018 and 3rd album "SUNGLASSES SAMURAI" in May 2019.





Exotic Ticks


of

The Phenomenauts, The Lumerians,


&

Electric Chair Repair Co.

)




-from Oakland, CA


-Tuck your pants into your socks! Exotic Ticks vectors under the skin to riddle your host body with post-molt bug rock. Featuring members of Lumerians, The Phenomenauts, and Electric Chair Repair Co.