Thursday October 31 2019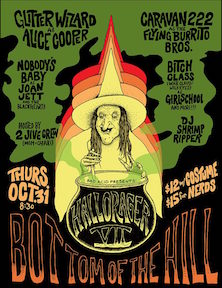 8:30PM

doors -- music at 9:00PM


••• 21 AND OVER




$

15

in advance

/ $12

at the door with costume,

$

15

without




Bad Acid

presents....

Hallorager VII




Hosted by 2 Jive Crew (MOM & Chaki)


Glitter Wizard


(as Alice Cooper)


glitterwizard.bandcamp.com/


Progressive Punk


Caravan 222


(as The Flying Burrito Brothers)


wwwhoneyhouserecords.com/caravan-222.html


Cosmic Californian music ~ 70s Rock


Nobody's Baby


(as Joan Jett & the Blackhearts)


nobodysbaby666.bandcamp.com/


Death Doo-Wop - Garage Pop


Bitch Class

(members of War Cloud and Wild Eyes)




(as Girl School & more)


wildeyessf.bandcamp.com/
warcloudiscoming.bandcamp.com/releases


hard rock


&) Shrimp Ripper

---

Glitter Wizard


(as Alice Cooper)




-from San Francisco, CA




-Glam freak punks Glitter Wizard are back and carrying the torch for the 7th annual Hallorager! This year they are headed to the psych ward, trans-mutating into Alice Cooper for one night only!






Caravan 222


(as The Flying Burrito Brothers)




-from San Francisco, CA




-The Burrito is out of the bag, and it's a saucy daddy. Caravan 222 is serving up some tasty licks as the one and only Flying Burrito Brothers. Put on your cowboy boots, tune in and drop out.






Nobody's Baby


(as Joan Jett & the Blackhearts)




-from San Francisco, CA




-Doom Wop Sweethearts Nobody's Baby are stepping out of the graveyard for a minute and comin' at ya as the queen of rock n' roll Joan Jett & The Blackhearts.



Bitch Class (members of War Cloud and Wild Eyes)


(as Girl School & more)




-from San Francisco/Oakland, CA




-Bay area rock veterans Wild Eyes & War Cloud are teaming up for a night of seething hard rock and heavy metal in high heels. Playing tracks from Girl School, Chastain and more!