Friday November 1 2019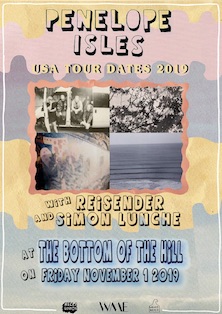 8:30PM

doors -- music at 9:00PM


••• ALL AGES




$

15


Penelope Isles




from The U.K.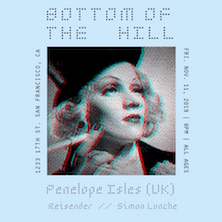 www.penelopeisles.com/


dynamic lo-fi


Reisender


www.reisendermusic.com/


indie folk pop


Simon Lunche
www.simonlunche.com/


pop rock, singer songwriter




----- Simon Lunche

back on the bill





---

Penelope Isles


-from Brighton, United Kingdom


-The Brighton, UK-based quartet Penelope Isles, led by brother and sister Jack and Lily Wolter, have released "Cut Your Hair" from their forthcoming debut album Until the Tide Creeps In, released Friday, July 12th on Bella Union. Flood premiered the song, saying: "...the five-minute slow-burner is its own unique brand of noisy pop, lurching along before opening up into a heavy, guitar-driven downpour."

Jack Wolter had this to say about the song: "One of my favourite songs to play live. The slow sludgy groove always feels like a refreshing moment in the set. I wrote it in our old garage on the Isle Of Man whilst in uncertainty of whether or not to move away to pursue a career in music or not. I had a small studio set up and it started with the drum groove and the rest happened really quickly. I guess it's a fixtinal tale and concept of what could have been me if I didn't have a go at doing 'the band thing'. A don't give up on your dreams kinda thing."

Penelope Isle's "Cut Your Hair" is the fourth track released from the forthcoming album following "Leipzig" and "Chlorine," as well as the love song "Round," which is "a collection of moments and thoughts of what it's like to be in love," explains the band's Jack Wolter who self-produced the album.

Formed around the chemistry between siblings and dual songwriters Jack and Lily Wolter, Until the Tide Creeps In is an album deepened by shared experience. Born in Devon and raised on the Isle of Man, the Wolters' bonds were strengthened by separation when Jack moved away to study art at university at 19, when Lily was 13. As he puts it, wryly, "By the time I moved home Lily was not so much of an annoying younger sister anymore and had grown up and started playing in bands and writing songs. We soon became very close. I had written some songs, so we started a band called Your Gold Teeth. We toured a bit and then Lily left for Brighton to study songwriting. A couple of years later I moved down and we started Penelope Isles together." For every sibling band forged in rivalry, many others mount an unassailable genetic argument for keeping the music in the family. The latter is assuredly the case with Penelope Isles, a quartet completed by Jack Sowton and Becky Redford.

Crisp and woozy, blissful and biting, Until the Tide Creeps In showcases the band's expansive DIY mix of translucent dream-pop, fuzz-rock guitars and indie-psych flushes comes lovingly dipped in exquisite harmonies and lustrous melodies: a combination so intuitive, you'd think it was in their blood.






Reisender


-


-Reisender began when singer-songwriter Paul Conroy bought a neglected mandolin for 40 euros from a Flea Market in Stuttgart, Germany. The first few songs were written under bridges and on street corners of 20 different cities in Europe. What began as scrappy busker tunes eventually evolved an eclectic mix of 80s-reminiscent synths and drums, grooving mandolin riffs, and unadulterated indie pop hooks. In 2016, Conroy partnered with Nic Gracia and Rob Marshall of The Canvas Group to mix and master Conroy's debut EP "New Year" and soon after the three formed a band and developed their signature sound, opening for national touring bands such as Hippo Campus and Eisley in San Francisco clubs including Great American Music Hall, Bottom of the Hill, and Rickshaw Stop.

In 2018, Reisender's live line-up changed to include guitarist and trombonist Rurik Schtaklef, who with Conroy perform as a dynamic two-piece. Nic Gracia and Rob Marshall of The Canvas Group continued to help craft Reisender's sound in the studio by co-writing and producing two more singles with Conroy: "Generation 1099" and "Slowmotional." Both these songs would offer a new stylistic edge to the band's sound, comparable to Phoenix, Tame Impala, and St. Lucia. Conroy's greatest personal influences are Paul Simon, Damon Albarn, Pixies, and Paul McCartney.




Simon Lunche


-from Berkeley, CA


-Singer/songwriter Simon Lunche has packed a near-lifetime of musical experience into just 21 years. As the creative force behind Berkeley-based indie-rock act The Blondies, he's written and produced the band's entire catalog and made his name as a captivating live performer. Along with taking up guitar at age five—and soon becoming the youngest endorsed artist in the history of Gibson Guitars—he's built up a vast musical knowledge that includes composing all the instrumental parts to his songs, from violin and cello to trumpet and sax. Having spent the last decade as a frontman, Lunche is now set to deliver a solo debut that brings a powerful new depth and even more dynamic vision to his artistry.