Tuesday November 12 2019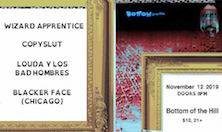 8:00PM

doors -- music at 8:30PM


••• 21 AND OVER




$

10


Wizard Apprentice
wizard-apprentice.com/


electronic


Blacker Face
www.facebook.com/faceoppressors/


afropunk alternative avant-garde


Louda


www.loudamusic.com/music


jazz, cabaret, spoken, r&b


Copyslut
www.facebook.com/copyslutband/


Cabaret Rock




---

Wizard Apprentice
Tieraney Carter
-from Oakland, CA
-WIZARD APPRENTICE (pronouns: she and/or they) is a music producer, live performer, and video artist. As a highly sensitive introvert, her multimedia projects are strategies for managing an overwhelming world. Their music is a combination of lyrical precision, minimalistic composition, and technically-amateurish charm. They create media that takes advantage of accessible, user-friendly technology; allowing them to skip time consuming learning curves and get straight to focusing on inventing personalized yet highly relatable language for deeply subtle and internal experiences. She's not a gear-head, rather, a digital folk artist who vividly and simplistically expresses her inner world using resourcefulness and honesty. Her video work incorporates green screen graphics, digital puppetry, and minimalistic compositing to produce imagery that's cerebral, campy, and hypnotic. She combines song and video to create multimedia live performances that explore intimate emotional themes ranging from the challenges/triumphs of being an empath to overstimulation in the Internet Age.

"Carter's singing harkens to that of a Catholic psalm or some sort of postmodern plainsong. Comparisons to Laurie Anderson would be appropriate. Although where Anderson confronts culture with a sideways glance, carter is entangled and entranced in the eccentric minutiae of her own psyche." - The Wire, November 2018






Blacker Face
Isaac Nicholas - GuItar parts
Jolene Whatevr - Vocal words
Louis N. Clark - Keyboard parts
Noah "brad" Jones - Drums
pt Bell - Bass parts, paralanguage
-from Chicago, IL
-"Blacker Face is an avant-punk Afrofuturist affair. Vocalist Jolene W/E wails and croons a black and blue future, full of care even when it's full of pain. pt's piercing rasp joins to create a dialogue of sublime suffering. In the accompaniment, Isaac Nicholas, Louis Clark, Noah Jones, and pt construct a tattered tapestry of Chicago blues, ragtime, math rock, no wave, and whatever else doesn't mesh. An exercise in contrast, exorcising hurt, Blacker Face is bound to unsettle but likely to give you a hug if you need it."





Louda
Leo Nava , guitar
Morgan Maudiere, piano
Marley Edwards, bass
Alex Shapiro - Romero, drums
Jeff Gomez, congas + illustrator
-from Chicago IL, San Francisco, CA
-LOUDA, is a bilingual powerhouse vocalist from Chicago, creating in the Bay Area. Pairing up soulful melodies that ride on the dreams of 90's pop queens and progressive lyrics with with hip hop flair, LOUDA is a sound all its own. Production by 20XX

LOUDA y Los Bad Hombres is a six piece original hybrid band of latin and hip hop grooves. Think vivacious vocals of Ella Fitzgerald meets Erykah Badu, supported by the multifaceted bands of Selena y los Dinos meets Amy Winehouse.




Copyslut
Chatz - Vocals
Ray - Guitar
Eli Maliwan - Bass
​Roxanne Medina - Drums
-from Oakland, CA


-This Oakland-based edge-walking foursome makes music filled with sex-magic, catharsis, and healing vibes. It's the full spectrum of entertainment - musical theater meets stripper meets rock & roll. Playfully campy and intensely authentic. Founded by Chatz on vocals and Ray on guitar, the band consists of Eli Maliwan (bass) and Roxanne Medina (drums), making Copyslut a sultry foursome. Copyslut was born on a cold summer day in 2017 during San Francisco's Pride weekend in a blaze of glitter, filled with all the sass of Freddie Mercury. What started as a love project between three close friends (Chatz, Ray, and Kendal) sparked what is now a driven musical project grounded in healing through pleasure.