Friday November 15
2019
8:00PM

doors -- music at
8:30
PM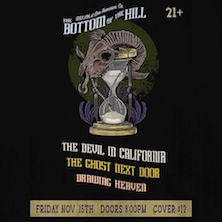 ••• 21 AND OVER




$

12


The Devil in California
www.thedevilincalifornia.com/


Rock / Hard Rock


The Ghost Next Door
theghostnextdoorband.com/


Alternative Metal


Drawing Heaven
www.facebook.com/DrawingHeaven/


Rock/ambient,instrumental,indie




---

The Devil in California
Anthony Malson - Vox
Jamie Cronander - Guitar
Snake - Guitar
Matt Stewart - Bass
Randy Rice - Drums
-from Oakland, CA
-The Devil In California: Classic but heavy-as-hell rock, you know you're in for something big and heavy when you first lay eyes on these guys, and that's just what you get. They bring their own brand of heavy rock, with low-slung guitars, attitude, impeccable musicianship, and soaring 3 and 4 part harmonies that crush with historic rock power and finesse.

Hailing from the broad, cracked streets of West Oakland California, The Devil In California have set out to create new rock music, and bring it to the world. That in-between thing that's heavy, but not metal. It's sing-alongy, but not sappy.

Jamie and his musical partner in crime, Matt Stewart laid the groundwork for this heavy, low, southern influenced rock concept. The "audition", and immediately subsequent induction of seasoned rock vocalist Tony Malson made them a band, but they still wanted more from this sound. In search of the perfect "big rock wall of guitars", TDIC hunted for a second gunslinger. While recording their first demo, they found him in Snake Green.

After playing a packed, secret showcase as a test run at a small bar in Oakland, the band exploded into existence seemingly all at once! In a couple short years they found themselves on stage at amazing Bay Area venues such as Slims, DNA Lounge, Brick and Mortar, and The Fillmore with nationals including Three Days Grace, Black Star Riders, Skid Row, Crobot, Truckfighters, Charm City Devils, Prong, Motor Sister, Tracii Guns, and John Corabi of Motley Crue fame. Their debut album release show at San Fransisco's DNA Lounge was SOLD OUT!!!

The Devil In California's "Longer Ride Down" came out in 2015 on iTunes, Amazon, CD Baby, Spotify, and most other online outlets worldwide. The album debuted at #7 on CMJ's Hard Rock chart. They have already released two singles and videos - "Black Hand" and "Empty Rooms". Their third single and brand new video coming soon!

The Devil's not just in California anymore!
These days, The Devil In California is out there on the road headed for a town near you. Get ready for 'em! It's a hell of a show!





The Ghost Next Door
Gary Wendt: Guitars/Vocals
Aaron Asghari: Guitars
Shane Hunt-Dussť: Bass
Andy Galeon: Drums
-from Berkeley, CA
-Based in Berkeley, California, The Ghost Next Door emerged from a desire to marry the dark melancholy of 80s and 90s alternative with the aggression and drive of Bay Area metal. With Gary Wendt on guitar and vocals, Aaron Asghari on guitar, Shane Hunt-Dussť on bass, and Andy Galeon on drums, solid songwriting and musical diversity are at the core of The Ghost Next Door's sound.

Each member brings unique influences from across the modern music spectrum: from punk to jazz, progressive metal to sadcore, modern rock to thrash. Their influences and playing styles combine into meter-bending, riff-driven rock & roll breaking out from under the bare skin of abrasively honest lyrics. On stage, they come together to show what manifests from an undeniable compulsion to create and perform their expressive take on modern metal.





Drawing Heaven
Daniel Di+ - Drums,
Dan Delay - Guitar
Trance Kelley- Bass
-from San Jose CA


-Drawing Heaven is an intense and driving post rock band hailing from the heart of San Jose, California. Formed in 2012 the group originally conceived as an instrumental project was founded by guitarist Dan Delay and drummer Daniel Dimas, and later added vocalist Casey Sky and Bassist Ben Everett to further push boundaries of their dynamic sound.