Saturday November 16 2019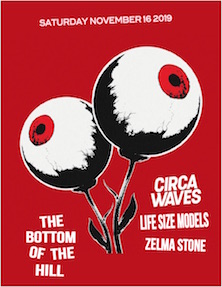 8:00PM

doors -- music at 8:30PM


••• ALL AGES




$

15


Circa Waves


circawaves.com/


indie rock


Life Size Models


www.lifesizemodelsband.com/


alternative rock


Zelma Stone
www.zelmastone.com/


indiefolkpop




---

Circa Waves
Kieran Shudall
Colin Jones
Sam Rourke
Joe Falconer
-from Liverpool, UK
-Known for their nervy, melodic indie rock, Britain's Circa Waves first gained buzz in the 2010's with hooky singles like "Get Away" and "Stuck in My Teeth." Centered on lead singer/songwriter Kieran Shudall, the band earned favorable comparisons to the Strokes, Arctic Monkeys, and the Vaccines even before they hit the Top Ten with their debut, 2015's Young Chasers. Without shying away from their influences, the band has matured, and albums like 2017's Different Creatures showcase their deepening maturity and knack for crafting their own distinctively infectious, post-punk anthems.

Circa Waves was formed in Liverpool in May 2013 by guitarist and singer Shudall, who had decided to "knuckle down" and commit fully to music after spending years in a succession of no-hope garage bands. After writing a batch of songs and putting some demos online, he recruited second guitarist Joe Falconer, bassist Sam Rourke, and drummer Sian Plummer (replaced by Colin Jones in 2015), and the band undertook a few short tours of the U.K. and Europe. Their melodic, propulsive rock sound, heavily inspired by the Strokes and also often compared to the Vaccines, was well-received by audiences, and such a buzz built around them that they were soon offered a deal with Transgressive Records, erstwhile home of Foals, the Subways, and Mystery Jets.

Their debut single, the double-A-side "Get Away"/"Good for Me," was released in December 2013 and was almost immediately hailed the "Hottest Record in the World" by taste-making BBC Radio 1 DJ Zane Lowe. On the heels of that first wave of excitement, Circa Waves released their debut full-length album, Young Chasers, on Virgin/EMI in 2015. Buoyed by singles like "T-Shirt Weather," and "Stuck in My Teeth," the album reached the Top Ten of the U.K. albums chart and paved the way for a series of well-attended live shows, including a sold-out date at London's O2 Academy Brixton.

The reception they received for their debut instilled the band with a greater sense of confidence, and as a result they returned to the studio almost immediately after touring; with their renewed vigor they created a heavier, beefier sophomore record, 2017's Different Creatures. The album also fared well, hitting number 11 on the U.K. album chart, and spawning the singles "Wake Up" and "Fire That Burns." The band's third full-length, What's It Like Over There?, arrived in 2019 and included the single "Movies." ~ John D. Buchanan






Life Size Models
Vocals, Guitar: Chris Seymour
Lead Guitar: Nick Miller
Bass Guitar: Anthony Martos
Rhythm Guitar: Stephen Seymour
Drums: Chris Denn
-from Oakland, CA
-Life Size Models is a premier Bay Area indie rock band. The band aims to connect with its audience through honest, emotional songwriting and blistering live shows.

As teenagers, twin brothers Chris Seymour and Stephen Seymour obsessed over their musical idols. In turn, these icons influenced the music that they would eventually create together. Life Size Models is an actualization of that dream and the idea that anyone can live up to their idols, life size or not.

Life Size Models has been compared to the likes of The Strokes, The Replacements, Arctic Monkeys, and The Cure. They have garnered some great press over the past few years from publications like SF Sounds, The Bay Bridged, Pure Grain Audio and the Metro Silicon Valley.

They are also in regular rotation at local college radio stations.With the success of their latest single "Polar Nights", they have also appeared on the Television Series CW's "B-Sides", and on The Bay Area's Alt 105.3FM
​





Zelma Stone
Chloe Zelma Studebaker
Kevin Fielding
Jake Kissner
Haley Pan
Jewelz
-from San Francisco, CA
-Bay Area-based Chloe Zelma and her band understand the phases of the moon, in the same way a cosmonaut navigates the night sky, Zelma Stone harvest instrumentals that mystically complement Chloe's soulful and haunting vocals. Hear them and you'll smile; understand them and you'll sweat. With a sound interlacing some sort of cosmic Angel Olsen, Jefferson Airplane, and Big Thief mashup, the band will release their debut EP, Layla, in early 2019.
Layla is named after one special pup. Front woman Chloe Zelma wrote these songs after a handful of losses, including the death of her brother, Layla's original owner, Brett. The EP captivates listeners with 4 highly narrative tracks that are as meditative as they are shaking. Exploring themes of grief, heartbreak, sexual harassment, and discovering one's self worth, Layla carries the memories and love that live on.