Thursday November 21 2019
8:30PM

doors -- music at
9:00
PM
••• 21 AND OVER
$
10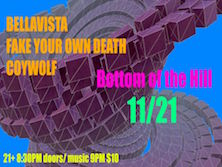 Bellavista
www.bellavista.tv/


post-punk psychedelic shoegaze surf


Fake Your Own Death
www.facebook.com/FakeYourOwnDeath/


darkwave indie post punk


Coywolf
coywolfsound.gandi.ws/


garage psych




---

Bellavista


-from San Francisco, CA


-Rex John Shelverton has been the mind, vision, and aural sculptor of all his bands starting in 1994 with Portraits Of Past through many records with Vue and Tamaryn, until the present time with and Bellavista. Rex's guitar playing is both unique and legendary, his tasteful talent with reverb and distortion widely recognized, his music infused with a dark intensity and distinct musicality that comes from the inventive chords and scales that define the unmistakable essence of his music.

After Tamaryn, Rex has once more given primacy to his role as the singer, songwriter, and producer of Bellavista. Bellavista's 2013 single, "Always Oneness b/w Under the Walls" offered a glimpse of Bellavista's future work, prepared in the same kitchen by the same chef as Tamaryn's The Waves and Tender New Signs.

Jeremy Bringetto has played bass in bands with Rex since 1994, including Portraits Of Past, Seventeen Queen, The Audience, Vue, Bellavista, Tamaryn, and was one of the founding members of Light Fantastic along with Terry Sowers.

Bellavista is Rex John Shelverton (guitar/voice), Jeremy Bringetto (bass) and Cary LaScala (drums).




Fake Your Own Death
Terry Ashkinos - Vocals, Guitar
Scott Eberhardt - Drums, Backing Vox
Izzy Chavarin- Bass
Jimmy Chen - Guitar, Synth
-from Pacifica, CA


-You don't have to die to start over but you might have to pretend to. Fake Your Own Death have been compared to Echo and the Bunnymen and Sonic Youth in both local and national press. They've shared stages with The Warlocks, Blood Red Shoes, Film School, White Denim, Bob Mould, !!!, Gang of Four and others. FYOD is Terry Ashkinos, Scott Eberhardt, Jimmy Chen and Izzy Chavarin






Coywolf
Tyler Allen
Alix Barksdale
Randy DaRoza
Nicolas Percey
Jonesy Daysleeper
-from Oakland, CA


-Hailing from Oakland, Coywolf is a combination of players from different musical backgrounds that culminate into a sound that meets it's namesake. From from the sneaking quiet to the snarling loud. Coywolf is invading your cities.