Saturday November 23
2019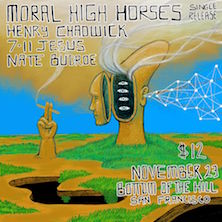 8:00PM

doors -- music at

8:30

PM




••• ALL AGES




$

12


Moral High Horses


Single release


www.facebook.com/moralhighhorses/


Melodic/Psychedelic Rock


Henry Chadwick
www.henrychadwick.net/


indie-rock


7-11 Jesus
711jesus.faith/


slusheerock garage rock


Nate Budroe


formerly of

Locus Pocus


natebudroe.bandcamp.com/


indie rock singer-songwriter




---

Moral High Horses
Andrew, Albert,
Blake, David and Robb
-from San Francisco, CA
-"With psychedelic, saturated visuals and a dreamy melody, it's easy to get lost in the band."
-DoTheBay




Henry Chadwick
Henry Chadwick
Zach Scott
Eddie Curzon
Anders Cochran
-from Santa Cruz, CA
-In late 2017 Henry Chadwick entered the studio with producer Rob Schnapf (Elliott Smith, Beck, Kurt Vile etc.) and engineer, Brian Rosemeyer (Kurt Vile, Cass McCombs, Surfer Blood etc.), and emerged with Henry's most personal and ambitious effort to date. Chadwick acted as a multi-instrumentalist again, playing drums, guitar, bass and keys on the record. The 11-song album (due out in the 2nd half of 2018) is named Marlin Fisher, after Henry's two middle names. Marlin Fisher has received praise from the likes of Rolling Stone, No Depression and more.

Chadwick's self-produced and released 2016 debut EP, Guest At Home, first showcased his skills as a writer, engineer, mixer and performer. The EP garnered attention from prominent blogs and outlets such as Rolling Stone, Time, Huffington Post, Indie Shuffle and others. Rolling Stone and Time Magazine listed it as one of the best albums to come out in the first half of 2016.

Dancing between genres and landing somewhere between indie, garage rock, psychedelia and shimmery, sunshine-tinged power-pop, Henry picks up where he left off and moves across plenty of new terrain on this personal and ambitious full-length debut.





7-11 Jesus


-from San Francisco, CA




-7-11 Jesus is a Slushee-rock band based out of San Francisco.






Nate Budroe


-from San Francisco, CA




-Nate Budroe is a singer/songwriter living in San Francisco.