Thursday December 5 2019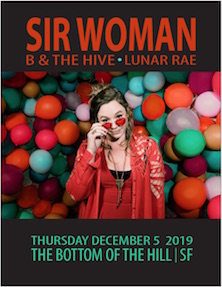 8:30PM

doors -- music at 9:00PM


••• ALL AGES




$

15


Sir Woman


sirwoman.com/


r&b | soul | folk




B & The Hive


www.bandthehive.com/


Rock, Indie, Pop, and Soul


Lunar Rae
www.lunarraemusic.com/music


Soul




---

Sir Woman
Kelsey Wilson
-from Austin, TX
-Sir Woman is the newest creation of Kelsey Wilson, co-founder of Wild Child and member of Glorietta. Wilson has been co-writing, singing, and arranging strings on over 15 albums and musical projects spanning all musical genres. The forthcoming album "Party City" will be her first solo release. She resides in Austin, Texas.





B & The Hive


-from San Francisco, CA


-B & the Hive captivates audiences everywhere they go with their intoxicating sound, dynamic performances, and undeniable intensity. Led by the stunning vocals of Brianna Lee, B & The Hive create music from the heart blending the sounds of Rock, Indie, Pop, and Soul.

​The band is comprised of lead singer & songwriter Brianna Lee on Vocals/Guitar, co-songwriter and producer Josh Barrett on Bass, Hannah Joy-Brooke on Keys and Backing Vocals, Hayden Gardner on Drums, and Eric Novak on lead guitar.

The band consistently tours opening for world renowned artists such as Goo Goo Dolls, Alanis Morrisette, Chris Isaak, Elvis Costello, Ben Harper, Allen Stone and many more. Their engaging live performances have put them on the bill at some of the top venues on the west coast including the Great American Music Hall, Bottle Rock Festival in Napa, Vina Robles Amphitheater, Henry Miller Library, Humphrey's by the Bay, Hotel Cafe, Whale Rock Music Festival, and The Mountain Winery.





Lunar Rae


-from Lexington, KY




-Lunar R•A•E is a messenger of love and light that journeys through time and space to reach her authentic essence through music. As an indie artist bringing a new wave of sound that combines genres like Soul, R&B, Funk, Hip-Hop and Rock, she has reintroduced herself as Lunar R•A•E: Lunar represents the femininity of the Moon, the rhythm of time, and enlightenment; surname R•A•E stands for "Reaching Authentic Essence." This Berklee alumna (formerly known as AbstractAmb or Amber Baker) is not only an artist/producer, but also a drummer who is well-known for her role in Psych Rock band Unknown Mortal Orchestra. She's also shared the stage with well-known artist/bassist MonoNeon, whom she also features on her EP "Abstractions" (under former artist name AbstractAmb). Her latest project "Reaching" is the first phase in this new journey of artistic expression. A hybrid sound that could be considered neo-funk, the short tape provides a glimpse of all musical influences, featuring lyrical content that ranges from abstract reflections of current affairs to the wide spectrum of human emotion. "Reaching" is an expression of Lunar's funky, abstract soul - her Authentic Essence.