Thursday
December 12
2019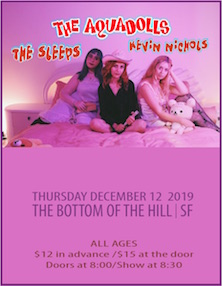 8:30PM

doors -- music at

9:00

PM




••• ALL AGES




$

12

in advance

/ $15

at the door
The Aquadolls
the-aquadolls.com/


rock fuzz psychedelic surf punk


TBA


...


Kevin Nichols
www.facebook.com/Kevichols/


prunge = punk rock grunge




---

The Aquadolls


-from LA//OC, CA


-The Aquadolls were founded in January 2012 by Melissa Brooks, the lead singer and songwriter for the band in La Mirada, California. Melissa began recording bedroom demos of her songs and eventually formed a relationship with Southern-California based indie label, Burger Records, who released The Aquadolls 'We Are Free EP' in early 2013, and their debut album 'Stoked On You' in December 2014.


In June 2018, Brooks made a comeback with the release of 'Bleach 7"' on her new self-made record label, Aqua Babe Records. "Bleach" and "Runaway" were the first singles for the new album, followed by "Communicationissexy/idkhow2communicate" in September 2018. It was then that the stars aligned and the new era of The Aquadolls commenced with Jackie Proctor joining the band on drums and backup vocals and Keilah Nina on bass and backup vocals, The band grew as a powerful threesome leading up to the release of The Aquadolls highly anticipated second album, "The Dream and the Deception", recorded and self-produced by Brooks and self-released October 28, 2018 on Aqua Babe Records.


The three girls are now currently gearing up to write new music together as a band, with "Suck On This" dropping in summer 2019, as well as preparing for their fall US tour. Having opened for the likes of Kate Nash, Vivian Girls, and The Raveonettes, playing festivals with Weezer, The Growlers, Cat Power, and FIDLAR, co-headlining a tour with SWMRS, as well as headlining a US tour and playing local California shows, The Aquadolls are in-your-face and good vibes all at once with energetic performances that leave you anticipating the next show. The Aquadolls pack a punch with tongue-in cheek lyrics, hard-hitting licks, and soothing vocal harmonies that will guarantee a head bang from anyone listening.





TBA


-




-






Kevin Nichols
Kevin Nichols
Sam Thornton
Elliott Glass
-from Oakland CA
-Kevin Nichols is a west coast DIY scene staple, relentlessly delivering pop-infused grunge rock, coined as "Prunge."

Orange County's Kevin Nichols is a prolific purveyor of left field hooks submerged in a world of fuzz ridden guitars and a driven rhythm section. Juxtaposing soft and torturous vocal performances, he began his self-produced songwriting career at the age of 13. Now 21 year old Kevin has honed in on his sound to a threatening level. His live performances have been referred to as the "Kevin Nichols Experience." Having shared the stage with notable acts such as Foxygen, Thee Oh Sees, Crystal Antlers, Missing Persons, Shannon and the Clams, Feels, Fox and the Law, and many more, he's graced venues such as The Echoplex, The Echo, The Constellation Room, The Viper Room, Til Two Club, The Smell, and Chop Suey (Seattle). Creating an iconic presence over the years and completing his third Full Length Album, there is no end in sight for Kevin.