Sunday December 15 2019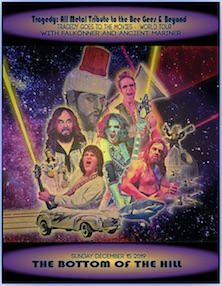 8:30PM

doors -- music at 9:00PM


••• 21 AND OVER




$

15


Tragedy: All Metal Tribute To The Bee Gees & Beyond


Tragedy Goes to the Movies - World Tour


www.letsmaketragedyhappen.com/


disco-metal


Falkönner


www.facebook.com/falkonner/


Hair Metal, Butt Prog


Ancient Mariner
www.uptheancients.com/


Heavy Metal




---

Tragedy: All Metal Tribute To The Bee Gees & Beyond
Disco Mountain Man -- lead vocals, lead keyboards
Mo'Royce Peterson -- lead vocals, lead guitar
Andy Gibbous Waning -- lead bass, lead vocals
Garry Bibb -- lead guitar, lead vocals
The Lord Gibbeth -- lead drums
Lance -- towel boy, complete idiot
-from New York, NY
-After eleven years and five albums of pure, glitter soaked disco-metal, NYC's TRAGEDY: ALL METAL TRIBUTE TO THE BEE GEES & BEYOND has turned their attention to the silver screen. Tragedy Goes To The Movies features metal-injected takes on music from cinema classics such as Grease, 007 Skyfall, Hair, & Star Wars: Return of The Jedi.

You may openly love/hate disco or metal. You may secretly love/hate disco or metal. But, you will definitely love Tragedy and their bombastic mix of music, glitter and magic.

Born out of the impenetrable divide of Disco and Metal, these fearsome brothers fearlessly obliterated the truce line that had been set in the great Disco/Metal Peace accord of 1977 when they seamlessly blended the two genres with their debut album, We Rock Sweet Balls and Can Do No Wrong - a collection of Bee Gees songs redone in a heavy metal treatment reminiscent of Judas Priest, Motley Crue and Guns N Roses. Since then, they have crisscrossed the globe with their spectacular live shows and having stormed across the USA, UK, Germany, Netherlands, Belgium, France and Switzerland. Subsequent full length albums, Humbled By Our Greatness, Death To False Disco Metal, The Solo Albums, The Joy of Sex and Tragedy Goes to the Movies have seen them spread their glittered wings to take on non Bee Gees classics from the disco era, soft rock anthems and party jams.In 2015, Tragedy broke the internet with a viral video featuring their take on You're the One That I Want from the Grease soundtrack. In 2017, Tragedy's video for Stayin' Alive broke the internet once again.
If you're allergic to smiling be afraid... be very afraid. Tragedy sweats glitter and cums confetti!

Tragedy has headlined festival stages such as SXSW (USA), CMJ (USA), Musikfest (USA), Bloodstock (UK), Rebellion (UK), Summer Breeze (Germany), Foudrock (France), Motocultor (France), Glastonbudget (UK), Legends of Rock (UK) and Hammerfest/Hard Rock Hell (UK).






Falkönner
CeCe Chaztayne - Lead Vocals
Lorde Spyte - Lead Guitar/Rhythm Guitar/Backing Vocals
Vincent Michael Michaels Vincent - Rhythm Guitar/Lead Guitar/Backing Vocals
Ash Fenixx - Bass
Feets - Drums and Percussion
-from San Francisco, CA
-It's not the 21st century, it's 1985. It's not the internet, it's the Sunset Strip. Off-the-shelf hair bands modeling corporate biker fashion are still just a twinkle in Bret Michaels' eye.
Falkönner is everything you love about that razor's edge in musical history (1983-1987) when seriously shreddy guitar riffs collided with catchy hooks and lush vocal harmonies to land heavy metal on the pop radio dial.
No tribute band, Falkönner is THEE all-original, radio metal song machine. The best hair metal band you've never heard of. A time capsule of fist-pumping f$%k-yeah heavy rock from the golden age.
credits





Ancient Mariner
Tom "Hammer Harris" Gears
Mark "Bruce Bruce" Meritt
Colin "Nicko McBurr" Osness
Gavin "Moonface Murray" Owen
Paul "Yo Adrian" Gries
-from San Francisco, CA


-Ancient Mariner unleashes the full power, performance, and style of a classic Iron Maiden concert: the smoke, the lights, the voice, Eddie and the spandex! The only difference? Everyone has a front row seat. With the soaring vocals of Mark "Bruce Bruce" Meritt and the thundering, machine gun bass of Tom " Hammer Harris" Gears, Ancient Mariner makes each performance unique with a staggeringly deep catalogue of songs. Ranging from the anthemic Flight Of Icarus to virtually unplayed Loneliness Of The Long Distance Runner, Ancient Mariner is the metal tribute not to be missed!