Saturday December 21 2019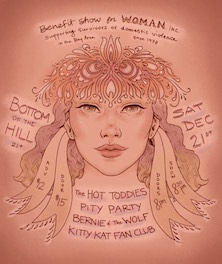 8:00PM

doors -- music at 8:30PM


••• 21 AND OVER




$

12

in advance

/ $15

at the door




Holiday Show to benefit W.O.M.A.N. Inc.


The Hot Toddies
www.facebook.com/TheHotToddies/


Indie Rock / Surf Pop


Pity Party
www.facebook.com/therealpityparty/


emo pop-punk


Bernie And The Wolf
www.facebook.com/BernieAndTheWolf/


indie alternative dream pop


Kitty Kat Fan Club
www.facebook.com/kittykatfanclub/


funky metal




---

The Hot Toddies
Heidi - bass/vocals
Erin - guitar/vocals
Sylvia - drums
-from Oakland, CA


-The Hot Toddies, an all-girl band from Oakland, CA mix sunny beach pop, indie rock riffs and a dry sense of humor. Heidi, Erin and Sylvia are best friends who have been playing music, drinking whiskey and writing songs together since 2005. They've toured across the US, Canada and the UK in support of their 2 albums "Smell the Mitten" and "Get Your Heart On" out on Asian Man Records. Their latest EP "Bottoms Up" was released on Tricycle Records in Feb 2013.






Pity Party


-from Oakland, CA




-PITY PARTY is an emo pop-punk band from Oakland, CA. Characterized by their frenzied, unforgettable live shows and their fierce dedication to DIY and mental health advocacy, Pity Party have been spreading their wild, barely-holding-it-together energy across the US since 2014.






Bernie And The Wolf


-from Chicago, IL




- Chicago indie rock duo Bernie & The Wolf is an unassuming wall of sound as melancholic as it is powerful. The sultry vocals and dreamy yet alt-rock-driven guitar soundscapes float over a rhythmic whiplash of drumming to fill an impressive amount of space between just two people. The band released their debut album "Catch Some" in 2017 and have since frequently toured the U.S. and Canada, most recently in support of their newest single "This Time Last Year," a first glimpse into the new direction of the duo's sound. They have most recently been compared to indie bands such as Hop Along or Land of Talk with some math rock influences.






Kitty Kat Fan Club
Casey, Justin, Brianda,
Sim, Jonathan, Mike 1, Mike 2
-from San Jose, CA
-Kitty Kat Fan Club is a band helmed by Mike Park of Skankin' Pickle and Asian Man Records fame and proves to be a very different project from his ska roots. While the music is very much indie and punk rock-influenced pop à la later Saves the Day albums (as evidenced by the palm-muted power chords of tracks like "You Got Me Modernized" and the discordant chord changes in "Every Island"), most of the lyrical content fits firmly within the twee genre, expounding greatly at times on love given and sometimes unrequited.

The lyrics reach a point that they are a little too cute and precious at times, as seen in tracks like the title track "Dreamy Little You," where the singer outlines various times of day at which she loves the subject of the song (spoiler – it's all times of day) and "Happy Now, Loving You" with an anthemic chorus that contains a straightforward marriage proposal. However, the band's lyricists do find opportunities to expand on subject matter that requires slightly more self-analysis, such as "I'm Loving You More Than I Should" and "Giving Up the Worries for a Chance to Be Free".

While it can't be said that anything on this album does much that is new, if the idea of overtly sentimental lyrics about love and romance spread over a backdrop of well-executed, by-the-numbers pop punk sounds good, this is the album for you. And while there is nothing groundbreaking here, the band does manage to maintain a unique identity in its sounds, even finding room for Mike Park's saxophone at times.