Sunday December 29 2019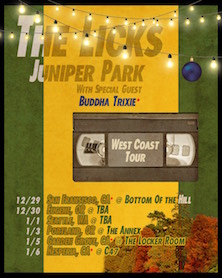 8:00PM

doors -- music at 8:30PM


••• ALL AGES




$

12

in advance

/ $14

at the door


The Licks
www.thelicksofficial.com/


Indie-Rock


Juniper Park
www.facebook.com/Juniperparkband/


Indie-Pop/Rock


Buddha Trixie
www.facebook.com/buddhatrixie/


Indie/Psych Rock




---

The Licks


-from Southern California


-We are an indie rock band from southern california.
in the summer of 2017 Paul haston was chopping down trees in colorado while chad zappia and thomas bateman were unknowingly forming the band. Meanwhile chandler james was spending his time bagging groceries for minimum wage in fullerton and jimmy rogers was training a small guerilla force of elementary aged children martial arts. much like the mighty morphin' power rangers, they all came together to form the licks.





Juniper Park


-from Los Angeles, CA




-Juniper Park is an Indie-Pop/Rock band based in Los Angeles, California. The band consists of Nolan Seeger – Vocals/Rhythm Guitar, Elijah John – Lead Guitar, Rylan Scott – Bass Guitar, and Oscar Flynt - Drums. The members quickly found similar interests in bands such as Hippo Campus and The Killers, which inspired them to start writing music of their own.






Buddha Trixie
ANDREW HARRIS (Lead Guitar)
DANIEL COLE (Drums, Lead Vocals)
DENNIS MOON (Bass)
KENZO MANN (Guitar, Synth)
-from San Diego, CA


-Buddha Trixie began as an innocent and informal outlet for childhood friends Andrew Harris and Dennis Moon to get together and play guitar, exploring a shared love for Led Zeppelin and Jimi Hendrix. With his combination of some wicked Rock Band drum skills (once ranked as high as 16th in the world) and a natural need to perform, classmate and friend Daniel Cole was a perfect fit to man the drums and mic, joining the band in 2008. Their persistent friendship resulted in an organic chemistry, and what was strictly a hobby soon became much more. After honing their skills playing cover songs and unpolished funk jams, the three began to write original music. Then, in 2014, after the three went their separate ways for college, keyboardist/guitarist/all around player Kenzo Mann entered the fold, contributing a new dimension and some great hair to the band. With a zany tendency to change their aesthetic from song to song, the only constant with Buddha Trixie is what initially brought them together: a brotherly love for all manner of music.