Thursday January 16 2020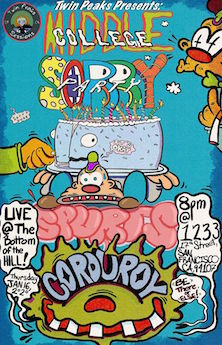 8:00PM

doors -- music at 8:30PM


•••

21 AND OVER




$

10


Spurts
www.facebook.com/spurtsmusic/


Indie


Corduroy
corduroyca.bandcamp.com/


alternative pop roc.


Sorry Party
sryprty.bandcamp.com/


garage-rock


Middle College
members of

Ogikubo Station

,

Long Knives

,


Kitty Kat Fan Club, and

Ordinary Neighbors


middlecollege.bandcamp.com/releases


emo




---

Spurts
Robert Sanlis
Jack
Chris
Nathan
-from Oakland, CA


-Spurts. Four good boys from the east bay who grew up in the same town. Some guy might describe their music as "no-frills indie rock," and then members of Spurts would beat that guy up for being too limiting, because there are also shades of rock (non-indie) and sometimes maybe a little bit of jazz. Imagine Modest Mouse but less like an abandoned K-Mart and more like a Target. They released an EP in 2018 and are working on a follow-up..




Corduroy
Vox, Keys - Nima Bascara
Guitar - Karah Lenzi
Guitar - Luis Oliveras
Bass - Rae Williams
Drums - Will Bowman


-from Bay area, CA


-They'll make you dance, they'll make you swoon, they'll make you miss the first time you heard Paramore. Abound with energy, they dip their toes in all things poppy, rocky, and even a bit jazzy. Corduroy is the band by the bay, built for songs to sing by seashore or cityscape alike. Let powerhouse front woman Nima Bascara send you to the moon, guide you through the stars, and then gently tuck you in back on earth before the set ends. You'll be happy you found Corduroy. .





Sorry Party


-from Los Angelew, CA




-Sorry Party is an anti-pop parade that ushers in a gut punch of big riffs and emotionally charged lyrics disguised as catchy indie rock songs. In some parts of the LA based 4 piece's set you'll feel a buzzing sense of joy, the vibrance of the crowd around you brimming with sexiness and confidence, but in some parts you'll fear your mortality and miss your family and friends.






Middle College


-fromSan Jose, CA




-Middle College is an emo band from San Jose, CA, featuring members of bands such as Ogikubo Station, Long Knives, Kitty Kat Fan Club, and Ordinary Neighbors.