Saturday February 1 2020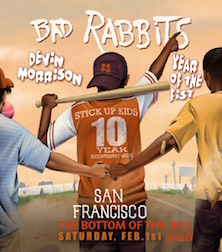 8:30PM

doors -- music at 9:00PM


••• 21 AND OVER




$

20

in advance

/ $25

at the door


Bad Rabbits


www.badrabbits.com/


Post-R&B


Devin Morrison


open.spotify.com/artist/4AgZVM5339ZoMyg38nYyYW


dreamsoul r&b/soul


Year Of The Fist

------DARE

off the bill


www.facebook.com/yearofthefist/


Punk Rock



---

Bad Rabbits
Fredua Boakye
Sheel Davé
Salim Akram
-from Boston, MA
-the ashes of Eclectic Collective, a live-oriented ten-piece that sometimes performed as Slick Rick's backup band. Showcasing soulful lead singer Dua Boayke, Bad Rabbits built a following with their dynamic live shows and hooky, cross-pollinated sound. In 2013, they broke through with their full-length debut, American Love. Buoyed the single "We Can Roll," the album topped digital streaming R&B charts, and reached number 12 on the Billboard R&B Albums chart. More accolades followed, including taking home a 2014 Boston Music Award and nabbing slots on the Vans Warped Tour.

Around 2007, after playing together for five years as Eclectic Collective, vocalist Dua Boayke, guitarists Santi Araujo and Salim Akram, bassist Graham Masser, and drummer Sheel Dave decided to re-form with the idea that they would take a rock approach to retro R&B. After self-releasing a batch of demos in 2008, they recorded their first proper release, the seven-song Stick Up Kids EP. High-profile gigs with artists like John Legend, Common, Passion Pit, and Wu-Tang Clan followed, as well as a stint on the Vans Warped Tour.

After meeting Bay Area producer B. Lewis at one of their shows, they collaborated with him on their 2013 debut LP, American Love. Their eclectic mix of funky R&B and hard rock was a success, with the album reaching number one on digital streaming R&B charts and leading to a sold-out tour, TV appearances on Jimmy Kimmel Live! and The Arsenio Hall Show, and another slot on the Vans Warped Tour. An acoustic EP titled Dusted arrived in 2014, followed in 2016 by their full-length sophomore album, American Nightmare. In 2018, Bad Rabbits returned with their third album, Mimi, featuring the single "F on the J-O-B." ~ Timothy Monger & Jason Lymangrover




Devin Morrison


-from Los Angeles, CA


-Orlando-born and the third son of two musicians, Devin Morrison started piano lessons at age 5 upon his grandmother's last wish. His older brothers later introduced him to beat-making, a new hobby for him until his formal training in Audio Production with Glenn Feit in '09. He later went on to study at Oakwood University under the tutelage of composer, Adriana Perera. While at Oakwood, he wrote & arranged for various ensembles as well as The Aeolians of Oakwood University, a choir he also sang with. Devin received his Bachelor of Music Composition and Recording Arts in '16.

In 2017, Morrison moved to Tokyo where he collaborated several artists including Fitz Ambro$e, Submerse, Budamunk, ISSUGI and Kojoe. This surreal experience of living in Tokyo prompted him to create "DreamSoul" -- a genre best described as a musical mélange of Dreams, Surrealism and Nostalgia, his "Trinity of Inspiration."

In April of 2019, Morrison released his debut album, "Bussin'". An album that has been deemed as "timeless" and "classic" from respected veterans as well as casual listeners. Morrison's style echoes the harmonies of Commissioned and Take 6 and his songwriting style winks at everyone from the Backstreet Boys to D'Angelo. Morrison currently resides in Los Angeles, CA where he is working on his next album.




Year Of The Fist
Squeaky, Katie Cash, hal9000 Beers, Serge
-from Oakland, CA
-Year Of The Fist reaches from Oakland, California where there has been no shortage of great musicians and bands to play with or catch live on any night of the week. In 2011 three friends found themselves in a position to play in the same band instead of different ones. Together their musical backgrounds spanned the genres of blues, dance, punk, country, metal and folk but all have the love for rock and roll. This has led them to open for a wide spectrum of acts such as L7, Save Ferris, MDC, 88 Fingers Louie, The Vibrators and Zeke to name a few. With 8 years under their belt as a band, Year Of The Fist has released two albums with a third on the horizon, multiple regional and international tours and several music videos with no end in sight.