Wednesday February 5 2020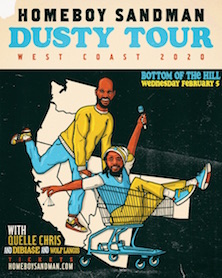 8:00PM

doors -- music at 8:30PM


••• ALL AGES




$

15




The Dusty West Coast Tour


Homeboy Sandman


intro by

Zeps


homeboysandman.com/
hip-hop/rap
Quelle Chris


www.facebook.com/QuelleChrisMusic/


Rap


DIBIA$E
mrdibiase.bandcamp.com/


hip-hop/rap


Wolf Langis
wolflangis.bandcamp.com/


alternative hip-hop/rap



---

Homeboy Sandman


intro by

Zeps




-from New York, NY


-Picasso claimed that the purpose of art is to wash the "dust of daily life off our souls." Homeboy Sandman asks on Dusty, "Why would I complain when I'm alive making art?" In the course of his Mello Music debut, the Queens virtuoso answers himself with 15 soul-assessing confessionals that sweep the entropy and daily static, the distortion and psychic silt of modern life onto wax. This is sacred dust, alchemical practice to convert anxiety into the highest form of creativity. It is rapping ass-rapping rapped better than your favorite rapper.

Let Sandman tell it: the sound is dusty. These bars are his id. He's not trying to save the world on this record or even save himself. These are the unmasked impulses and desires locked away for a long time -- some of them from before he ditched the legal world for decapitating mediocre MCs. On Dusty, he says " I unlocked myself and let them out -- dusted them off -- for better or for worse."

Of course, it's infinitely for the better. This is a therapy session without coming off remotely indulgent. Sandman remains both the master carpenter and architect, writing verses with lapidary precision, inventing new flows and cadences at brilliant angles that no one knew could be found.

This is the latest chapter for one of the most storied underground rappers of his generation. A versatile talent who has checked every last box: Unsigned Hype in The Source, Chairman's Choice in the XXL. Rolling Stone hailed his songs as dense and word-drunk, spilling past the margins, demanding repeat listens as he re-works rap forms and functions into something truly personal." Pitchfork said that in the all-star game of the new subterranean, "he is the guy with flawless fundamentals, wearing his socks high and his cleats sharp and polished." His solo catalogue is sterling and over the last two years he's mastered the group dynamic in tandem with fellow legends Aesop Rock and later, a brilliant psychedelic slab done in union with Edan.

It's all on display on Dusty. Pick almost any track and you'll hear the synthesized fusion of four elements hip-hop and Jamaican toasting, Nuyorican flavor and an experimental dead bent to expand the parameters of language. When you listen to Sandman, you hear the echoing boom of the South Bronx park jams of Kool Herc, the avant-garde wild style of Rammellzee, the technical perfection of Rakim and Big Daddy Kane, the infectious jazz hymnals of A Tribe Called Quest.

Produced entirely by Mono En Stereo (formerly known as El RTNC -- the moniker used when he produced Sandman's Kool Herc: Fertile Crescent), the beats rumble and snap, the basslines are rubber-thick and funky, the drums rugged as a butcher knife haircut. Sandman boasts the kinetic gift to tailor his flow to each, his voice an instrument in his own right -- able to switch between conversational and wrathful, debauched lothario and philosophically righteous. There's "Far Out," where he kicks off the album wondering if he's better off living in Siberia, then references breakdancing on cardboard, the Never Ending Story, and how the smell of boiled eggs reminds him of the Queens Halloweens of his childhood. "Noteworthy" finds him suffering from insomnia trying to figure out which rules to break and risks to take. He proposes toasts for the spirits and ghosts and flips old MC Lyte lyrics into modern koans. "Yes Iyah" finds Boy Sand boasting about clutching mountains by the peak over a tribal polyrhythmic breakbeat, kicking a pyroclastic flow that would even make Black Thought offer a bow in tribute. There are raunchy sex raps and existential midnight of the soul wanderings alike.

It amounts to a clarion statement of purpose, the arena stepped into and all challengers vanquished. Rap containing multitudes and cosmic dust. Exact as a science, loose as an improvised spiritual.





Quelle Chris


-from Detroit, MI


-Unconventional and hard to categorize, producer/lyricist Quelle Chris has created work in several genres, including punk rock, poetry, abstract soul, and instrumental as well as vocal hip-hop. As a beatsmith, he tends to favor lo-fi production methods and oddball samples, and his rapping is loose and casual yet thoughtful and introspective. Armed with a dark, self-deprecating sense of humor, he pokes fun at himself while addressing serious personal concerns and social issues. While Chris has been steadily releasing sharp, accomplished albums since the early 2010s, including 2011's Shotgun & Sleek Rifle, he began to receive more attention by the end of the decade, when he released albums such as Being You Is Great, I Wish I Could Be You More Often (2017) and Everything's Fine, his 2018 collaboration with longtime partner Jean Grae.

Born Gavin Christopher Tennille in New York, he has spent time in several other cities including Detroit, Los Angeles, Chicago, and Oakland. He first received notice as part of Wasted Youth, an obscure act that attracted attention from Detroit hip-hop luminaries such as J Dilla and Proof. He formed Crown Nation with Denmark Vessey, and recorded as Q-Life and simply Quelle. He released a collection of early material titled Blue Mondays and produced several tracks on Danny Brown's early albums.

Around 2011, he settled on the name Quelle Chris, and began concentrating on his solo career. Debut album Shotgun & Sleek Rifle appeared in late 2011, and featured guest appearances from Brown, Roc Marciano, and Big Tone. After releasing two EPs as part of the experimental group Racehorses Are Resources (one of which featured legendary poet/activist John Sinclair), Chris signed to Mello Music Group. The single Rappin Ass and full-lengths Niggas Is Men and Ghost at the Finish Line were released in 2013. Following production work for Pharoahe Monch, Diamond District, Open Mike Eagle, and others, the full-length Innocent Country appeared in 2015, followed by the instrumental album Lullabies for the Broken Brain in 2016.

Being You Is Great, I Wish I Could Be You More Often came out in 2017; the album featured guest appearances or production by Jean Grae, Mndsgn, Suzi Analogue, and others. The following December, Chris proposed to Grae, and the two were engaged. The couple also recorded an album titled Everything's Fine, which was released in March 2018 to critical acclaim. Featuring guest appearances from rappers like Your Old Droog and Denmark Vessey as well as comedians such as John Hodgman and Hannibal Buress, the album was darkly humorous, reflecting on stereotypes, police brutality, anxiety, and other topics. A year later, Chris released Guns, an incredibly focused solo album addressing issues related to gun violence and white supremacy. ~ Paul Simpson, Rovi




DIBIA$E


-from Los Angeles, CA


-Hailing from LA's very own Watts, Dibiase a.k.a Diabolic's productions run the gambit from 8 bit video game classics to seductive soul to raw grungy bangers this guy has no limitations no sample is safe. Multi-time finalist of Red Bull's prestigious Big Tune Producer Showcase, DIBIA$E has been honing his musical talents for over a decade within LA's influential beat scene. His signature sound has been recognized and sought out by some of hip hop and electronic music's most influential: Blu, Guilty Simpson, Elzhi [Slum Village], Abstract Rude, Battle Cat, DJ Premier, Flying Lotus, Geoff Barrow [Portishead]; to name a few.

DIBIA$E returns, this time with his signature 8-bit sound. Bonus Levels is everything you would expect from this LA beat scene veteran. A nod to video game culture, Bonus Levels brings back memories of endless hours of gaming and takes us to a place of Lo-Fi nostalgia.

DIBIA$E dices up vintage NES, Super NES and Sega video game samples, layering them with slumped out, off-the-grid drum programming, arpeggiated synths, pixilated sounds and filthy bass lines. Sprinkled with elements of house and footwork, plus a couple of remixes from favorites, Elaquent and 14KT, Bonus Levels is destined to be an instant 8-bit classic..




Wolf Langis
Danny Berliner is Wolf Langis
-from San Francisco, CA


-Formerly of rap duo known as Bottled Water(defunct), Wolf Langis now has to develop a public persona all his own.