Saturday February 8 2020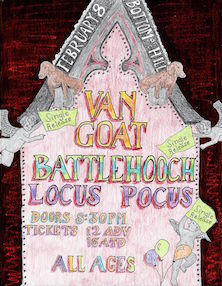 8:30PM

doors -- music at 9:00PM


••• ALL AGES




$

12

in advance

/ $15

at the door


Battlehooch
battlehooch.com/


Psychedelic Rock


Van Goat
www.vangoatband.com/


Swing / Punk / Surf


Locus Pocus
www.locuspocusmusic.com/


Garagey Psych Rock and Roll




---

Battlehooch
AJ McKinley: Guitar
Ben Juodvalkis: Synth
Grant Goodrich: Bass
Pat Smith: The Voice
Ryan Huber: Drums
Tom Hurlbut: Winds
-from San Francisco, CA
-Battlehooch is the kind of band you thought went extinct along with landline phones and cassette tapes. In one sense they're a band from another, sturdier era: a band that releases consistently quality material on a consistent basis, a band that doesn't sacrifice creative drive for commercial interest, a band that grows and evolves with each successive release. From the beautiful madcap mess of debut LP Piecechow to the more refined yet still quite surrealistic jams on Hot Lungs to a cool, polished psych-rock sheen on 2014's Wink EP, Battlehooch has proven itself as a band built to last. They may possess an old-school mindset, but their music is diverse and daring enough to fit perfectly into this wild new century.

Formed in San Francisco – the birthplace of psychedelia – it's fitting that the six-piece collective echoes the city's tie-dyed past in its own compositions. However, the group isn't content with becoming a mere tribute to a time period they never lived through. Instead, Battlehooch updates the sound of psychedelia for a new generation, one that can now access dozens of genres and millions of songs with a few clicks of an iPhone. Battlehooch reflects this modern trend of manic music consumption: on any of their many releases, the listener will be treated to a sonic smorgasbord, bouncing from hard rock to dance-pop to mind-warping head trips to flirtations with electronica and jazz and Afrobeat and everything in between within the span of a few minutes, sometimes even seconds.






Van Goat
Derek 'Sunshine Carmine' Burle, Ben 'Honey Hands' Einstein,
Aidan 'Blanco Basura' Ward, Taylor 'Douglas McDoogle' Moxon, Lindsay 'Limby' Alexis.
-from Oakland, CA
-"raw and so energetic that you'll want to upstage your granddaddy on the dance floor." - good Times Santa Cruz
"Like a skeleton band in Hell- jazz art punk on high." - american pancake
"A party at the push of a play button." - Earbuddy
"A danceable feast, the gin-soaked soundtrack for some crumbling speakeasy, full of danger and menace. " - Louder than a doubt
To hear Van Goat, simply click here.

To smell Van Goat, simply find a Yellow Sharpie.

To see Van Goat, you must go to a live show. Their performances have been described as both 'pleasing' and 'nice'.

To touch Van Goat, you must pay an additional $5.

To taste Van Goat, you must go to Colonial Donuts after 2am and get a box of assorted donuts and donut holes. You must mix bites of donuts to get the full experience.





Locus Pocus
Vocals- Nate Budroe
Guitar- Kyle Chapman
Bass- Daniel de Lorimier
Drums- Michael Kipnis
Organ & Rhodes- Daniel Markowitz
-from San Francisco, CA
-What is Locus Pocus? A question, an affirmation, a soothing psychic balm in a world gone mad. We all strive for answers to life's most vexing questions- Why do bad things happen to good people? What does it mean to live a virtuous life? Why won't my girlfriend dance with me? Some seek refuge in the divine. Others, Scientology. Locus Pocus strives to transcend these fleeting ephemera and inhabit a truly higher plane of being, one pulsing with the driving rhythms of drummer Michael Kipnis and bassist Daniel de Lorimier. Amid the shallow decadence of modern society, submit to the commanding authority of George S. Rosenthal's guitar and the spellbinding keyboard of Daniel Markowitz. The world is on fire, and you can hear it in Vivian Cook's voice.

Conceived in the depths of a Bay Area fever dream, Locus Pocus is the response to the question you were too puny and afraid to ask. It's the voice in the distance that lures you outside of the cave and into the light. The extra dimension that keeps you from hurtling over the cliff like so many walruses who came before you.

Abandon your friends, say farewell to your family- they're but thinly-veiled witches who want nothing more than for you to stray from the one true path. Let your mind peel away like a gently blooming onion and allow Locus Pocus to do the thinking for you.