Thursday February 20 2020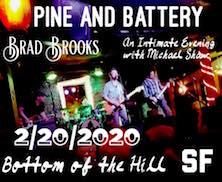 8:00PM

doors -- music at 8:30PM


••• 21 AND OVER




$

20


Pine & Battery
pineandbattery.com/


Rock, Pop, Jazz Odyssey, Melodramatic Funk


Brad Brooks
bradbrooksmusic.com/


Americana, Power Pop


Heather Combs

----An Intimate Evening with Michael Shaw

off the bill


www.facebook.com/heathercombsmusic/


Singer-Songwriter/Rock-n-Roller




---

Pine & Battery
Jeff Campbell: Vocals, Guitar
Andy Weller: Guitar
Rick Munoz; Drums
AJ Leighton: Bass
-from Bay Area, CA


-Certainly no rock scene is stronger than the San Francisco Bay Area Rock scene, and Pine and Battery have established themselves as one of the trailblazers of the movement. With Rick Munoz (drums), AJ Leighton (bass), Andy Weller (guitar) and Jeff Campbell (vocals and guitar), Pine and Battery combines years of experience with stellar talent. The four members come from a wide variety of musical backgrounds but share the common roots of rock and draw from their past band experiences to collaborate in a way that San Francisco hasn't seen since it's heyday. A Philadelphia native, Campbell moved to San Francisco specifically for the Rock scene he had heard was developing: "This town is full of so much culture and rock n' roll is the center of it." The band formed in 2005 when Campbell and Weller met at a friend's gig. They started collaborating on some of the music that Campbell had been writing; low and behold it was a solid match. Later added to the mix were Munoz and Leighton making up the rock solid rhythm section, bringing their current project into full fruition and releasing their first full length in late 2006. When asked who they sound most like, they always answer "Ourselves" but draw heavily from their varied influences like Led Zeppelin, U2, Jeff Buckley and Foo Fighters. The common thread amongst the four members though is their strong allegiance to the classic rock of the 70s and then it's resurgence again in the 90s. With all four members writing material drawn for their varied musical and personal pasts, they come together as an undeniable blend of catchy, personal and honest music that seems to have been missing in recent years. With the release of "2", the bands second effort, Pine and Battery have released a solid and distinctive array of aural deliciousness. Campbell promised it to be "more raw and a bit more edgy" than their previous one, and that it is. The bands stellar musicianship and undeniable song writing have garnered them accolades from fans and critics alike, as well as establishing them on local Bay Area radio stations such as 107.7 The Bone (Local Licks) and KFOG, being a featured artist on their local shows. Now, with the 2012 release of their new EP "Daylights", Pine and Battery are poised to bring their music to the masses.






Brad Brooks


-from San Francisco, CA


-Brad Brooks is that rare quadruple threat of writer, player, singer, and performer.
His songs combine the melodic sensibility of Elvis Costello, the best instincts of Wilco and Brian Wilson, along with the orchestral sophistication of Queen.
Brooks is rooted in a kind of Victorian California romanticism; and with the release of his record "Harmony Of Passing Light" Brooks joins his peers with the best work of his career.
His gift for melody and his soaring vocals remain the most immediately impressive traits of his music. Brooks' voice can wail like a blue-eyed soul singer, whisper plaintively, croon with just a touch of twang, or soar through the most demanding melodic acrobatics, and he pulls off all of these different guises on "Harmony" without the record sounding disjointed. Rather, it's an album with multiple textures that still feels unified.
Brooks has found the essence of his own unique voice, and been one of the Bay Area's best-kept secrets for years. This album should change all that.
Brooks has also shared the stage with Phil Lesh of the Grateful Dead, opened for Grammy-winning band Train, Imagine Dragons, and Linda Perry





Heather Combs


-from San Francisco, CA


-Heather Combs, a Gainesville, Florida native now living in California, is a powerhouse on stage. A little bit reckless, a little irreverent but mostly wielding an authentic heart – put her on a stage and within minutes she can turn the eye of a new batch of faithful fans. Her voice is sweet and then rough, strong and then vulnerable, but always honest and true. She plays guitar with reckless abandon and isn't afraid to show the listener who she really is. And now Combs brings us Everybody Has Their Turn, an album packed with all the passion and personality of her live shows.

In her fifteen+ year career, she has shared the stage with many fantastic musicians such as Stevie Nicks, Tom Petty, Steve Earle, Sheryl Crow, Kasey Chambers, Todd Snider, Los Lobos and the Go-Gos. Heather's songs have been featured in hit TV shows such as ER and Grey's Anatomy. She is fiery, funny, intense and not afraid to take risks. Having been named "Best Band in the Bay" by San Francisco Magazine twice and a part of KFOG's Local Scene CD, Heather thrives on connecting with the audience.