Saturday
February 22
2020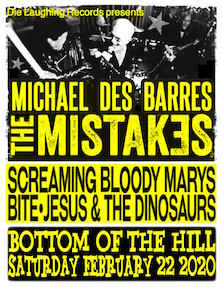 8:30PM

doors -- music at 9:00PM


••• ALL AGES




$

15


Michael Des Barres & The Mistakes
michaeldesbarres.com/


Rock


Screaming Bloody Marys
www.screamingbloodymarys.com/


77 Garage punk!


Bite
www..bitesf.com/


punk rock


Jesus & The Dinosaurs
www.facebook.com/JesusAndTheDinosaurs/


Garage/Punk Rock




---

Michael Des Barres & The Mistakes


-from England/Hollywood, CA


-Michael Des Barres is a European Marquis, raised in England and living in Los Angeles. As the host of Little Steven's Underground Garage on SiriusXM Radio Channel 21, he is heard by more than six million listeners, five days a week (5am-8am and 9pm-midnight PT). He has appeared in over 150 hours of American television and more than 40 feature films, and has sold over 7 million albums as both a recording artist and songwriter.

Over the past five decades, Michael has appeared in numerous feature films such as "To Sir With Love" with Sidney Poitier, "Pink Cadillac" with Clint Eastwood, "The Man From Elysian Fields" with Mick Jagger and "Diary of a Sex Addict" with Rosanna Arquette as well as countless television shows such as NCIS, Bones, CSI, Seinfeld, Frasier, Roseanne and Melrose Place, and as the infamous assassin Murdoc on MacGyver.

Michael Des Barres was also the touring singer for the Duran Duran spin-off group, The Power Station, performing at Live Aid with one of the most iconic live acts of the mid-1980s. From 1982 to 1984, Michael was a member of Chequered Past, which included Steve Jones from the Sex Pistols, and Clem Burke and Nigel Harrison of Blondie. In 1983, Michael penned the song "Obsession," a number one hit in 27 countries for LA new wave group Animotion.

Recently, Michael narrated the one-night only performance of Frank Zappa's legendary 200 Motels with the LA Philharmonic, released a live follow up to his 2012 album Carnaby Street called Hot 'n Sticky, and co-starred alongside Gene Simmons of KISS on an episode of CSI: Las Vegas. His latest album, "The Key to the Universe" was released in 2015 on FOD Records.

In December of 2018, Michael married his longtime partner, Britta Hayertz.





Screaming Bloody Marys
Dave Dalton Guitar and Lead Vocals
Danny Norwood Guitar from Social Unrest
Greg Langston Drums
John Hansen Bass Guitar
-from Alameda, CA
-Formed by Dave Dalton in 1989, their debut album "Get In, Get Off, Get Out" was released in 1995 on the California label, Doctor Dream Records. The band then began a busy schedule of recording, touring and media coverage while sharing stages with The Ramones, The Melvins, The Adicts, Mudhoney, Hole, Cheap Trick, L7, Supersuckers, Dead Kennedys, The Vibrators, Kiefer Sutherland, Spastik Children, The Dictators and many other notables. As is often the case, such ceaseless touring caused the Screaming Bloody Marys to self destruct and left their much anticipated second full length album to remain unreleased. S.B.M. had several singles throughout the 90's on Sympathy for the Record Industry, Wallibie Records (Japan), I-99 Records, Die Laughing Records and are featured on too many compilations to count.

They were gone, but not forgotten. In early 2015 calls came in to original member Dave Dalton inquiring about the groups' status. Among those calling were Dick Manitoba (the Dictators) members of Rancid, booking agents and record labels, including San Francisco's Zip Records. The Screaming Bloody Marys reformed and their first gig was supporting The Dictators at a sold-out house at San Francisco's Slims.






Bite
Chelsea Rose-Vocals
Krazy Keith- Guitar
Eric Borst- Drums
Jonny Trenchcoat- Bass
-from San Francisco, CA
-We're about playin' fast, loud, sexy, trashy down and dirty punk and roll!
We've had some kickass players in this band and the current lineup is no exception. We've all been around the block and back so this shit ain't about jumpin' on some trendy bandwagon. If you like it fierce and fearless, check it out...
​
Influences Dead Boys and Stiv in general. Sleepless nights, Ramones, Life in the fast lane, IGGY, smoky bars and clubs, New York Dolls, Heartbreakers, Thunders, Broken hearts but not dreams, The Cramps, The Fab Mab, CBGB [RIP], Russ Meyer, John Waters, W.O.W.[RIP], Livin' in the Mission S.F., Hotrods, Goin' fast and livin' hard, Bukowski, Jim Carroll, New York City, Patti Smith, Amsterdam, Goin' over the edge and livin' to tell..., Blondie and DEBBIE Harry, strip clubs, Velvet Underground all the other usual suspects, and everybody who's gone after what they want with a vengeance and lust for you know what!

Sounds Like Raw Power!





Jesus & The Dinosaurs
Brian - Guitar/Vox
Mic = Drums
Granados - Bass
-from Fairfield, CA


-Garage punk band based in Fairfield, California. They combine the energy of garage rock and proto-punk with sounds ranging from 60's inspired psychedelia to cumbia, and other sounds inspired from their Latin American background.