Thursday March 12 2020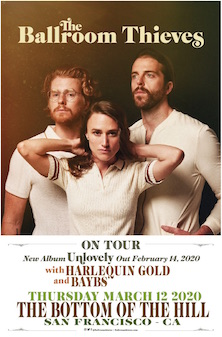 8:30PM

doors -- music at 9:00PM


••• 21 AND OVER




$

15


The Ballroom Thieves


www.ballroomthieves.com/


alternative rock & folking roll, neo-folk


Harlequin Gold


www.facebook.com/harlequingold/


Indie Pop Rock


Baybs
www.facebook.com/baybtrain/


Dream Pop Folk




---

The Ballroom Thieves
Martin Earley,
Devin Mauch,
Calin Peters
-from Boston, MA
-In a society buoyed by lies, it takes strength to confront the truth. Unlovely, the third full length album from Calin "Callie" Peters (vocals, cello, bass), Martin Earley (vocals, guitar), and Devin Mauch (vocals, percussion), isn't about the complete absence of beauty. Instead, the eleven tracks on The Ballroom Thieves latest LP are a sonic encapsulation of emotional and political dissonance, the constant state of discomfort that's enveloped the world for the past few years.

"We write about the things that are important to us and right now, it's impossible to ignore the inadequate state of the world," says Earley. "We just wrote the songs that came out of us and they happened to be largely political." He continues, "In an ideal world, we would never write a political record—there'd be nothing extreme enough to warrant it."

Tackling subjects as weighty as greed, inequality, privilege, and narcissism, and as light as fulfillment and adoration, Unlovely offers a track for every occasion, whether you're furious, depressed, exhausted, or hopeful. Songs like "Homme Run" and the title track boil over with exasperation and disgust, rage and resentment running through every line in protest of today's global status quo. Others like "Love is Easy" and "Tenebrist" turn the focus inward onto doubts of purpose and identity.

As their first album entirely co-written by Peters and Earley, save for Peters' song "Pendulum," Unlovely is a tangible reflection of their evolution from band members to life partners. "Figuring out how to write as a writing team has been something of an adventure," says Earley. "We used to create songs more separately but found that we complement each other well in almost every sense of the word, including songwriting. Most of the songs I brought to the table were inspired by our dreadful news cycle but tend to involve some sort of hopeful or romantic spin, whereas most of Callie's songs are about smashing the patriarchy and destroying evil forever."

Songs like "Begin Again" and the Gilberto & Getz-influenced "Don't Wanna Dance" serve as a window into Peters' perspective, someone who is, as she says, "smiling through" regardless of how difficult and frustrating that facade is to maintain. "I began writing a few years ago, and when I started, it felt like I opened up this whole verbal world in my head," says Peters. "For a while, I thought that by writing all the time, I was perpetuating my pain, but over time, I've found a way to use words to help ease my mind."

"I wrote a lot of the lines while sitting in the van and having a difficult time as we drove past nondescript highways," she says, adding that while some of her notes were unintelligible, others were crafted with more poetic intentions. "I hope that by getting some of my thoughts down, I could show someone lonely that there might be one other human in the world who feels like they do."

Incorporating musical styles that range from Motown to classic rock and metal, Unlovely maintains the recognizable, nostalgia-tinged sound of The Ballroom Thieves' previous outputs while pushing a heightened brashness. Since the release of their first EP and debut full-length, A Wolf in the Doorway, The Ballroom Thieves have consistently and skillfully crossed genres, joining artists like Caamp, Langhorne Slim and Shakey Graves to bridge the gap between folk, rock and soul. With Unlovely, thanks in part to frequent collaborator Ariel Bernstein, the trio took it a step further and grew their instrumental arsenal, amplifying their signature energy and eccentricity. "Ariel has been a great friend of ours for years now," says Earley. "He's a talented musician, engineer, and unlicensed band therapist, so when we decided to expand our touring party, he was the unanimous first round draft pick."

Engineered and produced by Jerry Streeter (Brandi Carlile, The Lumineers, Vance Joy), Unlovely was recorded in and around the northeast, predominantly at HearStudios in Camden, Maine.

It's their unique brand of powerful and harmonious music, while never shying away from topics and ideas they are passionate about that has charmed fans around the country. Their catalogue has amassed over 85 million streams and they've gained a loyal live following, selling out shows and earning festival spots at Boston Calling, Newport Folk, Moon River, Mountain Jam, and Calgary Folk. Ultimately, Unlovely sets the stage for The Thieves to continue to impact listeners everywhere.





Harlequin Gold
Avery O'Brien, Elle O'Brien,
Justice McLellan, Jamison Ko
-from Vancouver, BC, Canada
-A few years ago sisters Elle and Avery O'Brien were living on opposite sides of the world. Avery went travelling abroad, exploring and working across Asia and Australia. Elle moved from her hometown of Kelowna to Vancouver after completing her degree in Microbiology. After months apart, living such disparate lifestyles, they did not expect to be reunited by a family tragedy—a serious dirt biking accident that left their brother in a coma. Avery caught the first flight back to Canada and together they tried to manage their family crisis from home. There were months of uncertainty, but finally the news came through that their brother would survive and make a full recovery. Their shared fear and pain had shaken their world and left them unsure where to go next, but it also brought them closer together. It was during this time of reflection and introspection that Elle and Avery decided to pursue their passion for music together as Harlequin Gold.
Following a few preliminary shows as a duo in Vancouver, they asked friend and producer/guitarist Justice McLellan (Blue J/Mesa Luna) to join the band. Together they made DIY apartment recordings for their songs "Without You Now" and "Youth" which picked up considerable attention on Spotify. With their audience growing quickly, Harlequin Gold needed a more lively sound and recruited drummer Jamieson Ko to round out the band.
Today the O'Brien Sisters can barely remember their initial decision to collaborate. It feels to them like they've always played together. With an ever-growing collection of heartfelt songs and a reputation for crushing live shows, Harlequin Gold are just getting started.






Baybs


-from San Francisco, CA




-In 2018, Craig Jacobs and Melissa Russi, two Bay Area natives, journeyed through San Francisco out to the Ocean Beach Dunes. What started as a casual day of jams by the water, turned into a couple of baybs traversing sound on a transcendental soul safari. Sprouting from an eccentric conception, their sound is an ebb and flow of poetic folk and dream pop with a flirtatious pulse to move to.