Saturday March 21 2020
CLOSED


The Glitter Wizard show is being postponed and will be rescheduled for later this year, exact date as yet unknown. Your tickets will be transferred to the new date automatically unless you request a refund, which you can do at any time. Once it is rescheduled, we'll let you know the new date, and you'll again have the chance at that time to request a refund if you cannot make the new date.
Saturday March 21 2020

8:00PM

doors -- music at 8:30PM
••• 21 AND OVER
$
12

in advance

/ $15

at the door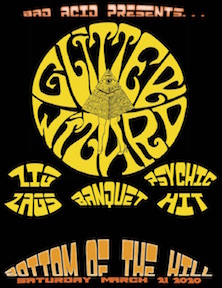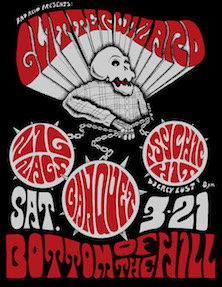 Bad Acid
presents...
Glitter Wizard
glitterwizard.bandcamp.com/
(East Coast tour send-off)
glam heavy metal
Zig Zags
www.facebook.com/zigzagsmusic/
skate punk, acid rock
Banquet
banquetsf.bandcamp.com/
heavy rock n roll
Psychic Hit
www.psychic-hit.com/
proto-metal rock n roll
---

Glitter Wizard


-from San Francisco, CA




-Glitter Wizard plays a unique brand of freak rock that Julian Cope once described as "unashamedly glamorous hard rock," and he's not wrong. These San Francisco longhairs from another dimension were raised on punk and mix screaming riffs with a high- octane stage show full of sequins, headbanging and a sonic attack that'll leave you dazed and ready for the next hit. Imagine the Stooges stole the outifts from the Spiders from Mars, synth man Dik Mik from Hawkwind and hit the stage on a speed bender. They have assembled a legion of glitterati touring the US and Europe, playing club shows and festivals like Roadburn, Muskelrock, Duna Jam, Desert Fest, Burger Boogaloo, SXSW, Desert Daze, Psycho de Mayo and Heavy Days in Doomtown along the way. Their music has been featured in film, podcasts, the X Games, and even a low budget porno. Glitter Wizard have recorded four full-length albums and three EPs with Donny Newenhouse (The Coachwhips, Holly Golightly, Dead Ships, Hot Lunch) and are constantly working to keep the real spirit of rock n' roll undead and feasting on the brains of young and old alike.






Zig Zags
Jed
Dane
Caleb
-from Los Angeles, CA


-Los Angeles based bone-head savants Zig Zags are no-nonsense 80's style thrash with a magpie eye for deep-fried pop culture detritus. These guys give so few fucks while they are out ripping faces that it's tough to say much about them that hasn't been said before - they shred so that we may raise beers in non-ironic salute to their Voivod worship, to a world in which young heshers subscribe to Heavy Metal and practice early Slayer solos while watching daytime TV, to wake and baking as you watch the world burn. A soundtrack to getting high and driving around in your shitty car in your small town, occasionally getting laid…occasionally getting laid out at the local liquor store by an older dude. Gang vocals: check. 1-2 pit beat: on lock. Shredder solid state guitar heroics: ripping, and so should you, the bong is packed and I think there's still pizza in the fridge. I can smell your pants from here, dude.






Banquet
Eric " don cheeto" kang
Doug Stuckey
Damon Lockaby
Brandon " nug" Chester
-from San Francisco, CA


-The once fruitful rock n' roll city of San Francisco is now a barren womb, fraught with the lasting effects of technological herpes. Thankfully a polyp known as Banquet has formed and is screeching for freedom from the womb's clutches. With dual ripping lead guitars, howling vocals and a rhythm section that can make a pregnant woman's water break






Psychic Hit
Ariana Jade - vocals, violin, synthesizer
Andrea Genevieve - lead guitar, synthesizer
Jake Palladino - guitar, synthesizer
Melanie Burkett - bass guitar
Justin Divver - drums
-from Oakland, CA
-Oakland, CA based hard rockin proto-metal sweetheart band, Psychic Hit, was formed in 2017 by guitarist Andrea Genevieve (Queen Crescent, Purple Rhinestone Eagle) and vocalist/violinist Ariana Jade (Hedersleben, Nik Turner's Hawkwind). Having met through the thriving Bay Area rock n roll network, the tenacious pair began to dream up a project that fused their wide-ranging tastes in music. What resulted was a band that would combine the raw power of early Judas Priest and Scorpions, the melodic sensibilities of Fleetwood Mac, and the esoteric appeal of lesser known acts such as Lucifer's Friend and Flower Travellin' Band.

In 2018, the duo was joined by bassist Melanie Burkett (Ovvl) and drummer Justin Divver (Funeral Chant). With the talented rhythm section locked in, the four musicians began to embark on a songwriting enterprise that resulted in their first, self-recorded demo in the fall of that year. After the demo was recorded, the band welcomed fifth member, Jake Palladino (Pins of Light, Hightower), to join Andrea Genevieve on guitar.

Although Psychic Hit's sound is heavily influenced by both 70s greats and rarities, the band is anything but an anachronism. Like modern contemporaries such as Kadavar, Lucifer, and Hällas, Psychic Hit seeks to recast rock music in their own image, rather than to just simply imitate eras past. In an age where the dark forces of monotony and monocracy loom large on the horizon, Psychic Hit appeals to their listeners to embrace the regenerative, communal power of rock n roll.