Tuesday March 24 2020
CLOSED
Show canceled:

All advance tickets will get automatically refunded.
Tuesday March 24 2020

8:00PM

doors -- music at 8:30PM
••• ALL AGES
$15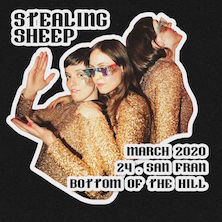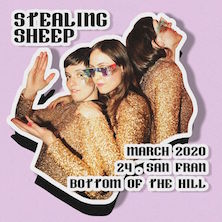 Stealing Sheep
stealingsheep.net/
(from Liverpool, UK)
electro pop
Vice Reine
------Boniface
off the bill
vicereinemusic.com/
synthpop, indie dance, nu disco, retropop
El Elle
cargocollective.com/elelle
dance-pop synthwave
---

Stealing Sheep
Becky, Emily & Lucy
-from Liverpool, England
-Big Wows is heavier, harder and weirder than Stealing Sheep's previous work. Bold neon pop songs with rave percussion, steelpans, dreamy segues and breathy experiments. e *fsszzt* sound of lemonade opens the album with a hyper-real sense of optimism that progressively reveals the cracks of dystopian irony amidst sugar–coated pop; held together by Emily Lansley's bass guitar, Luciana Mercer's drum kit, Rebecca Hawley's synths, and the trio's swooning steely vocal harmonies.
Stealing Sheep describe Big Wows as "a slow rush"; taking shape over a period of nearly three years spent working out exactly what they wanted it to be and creating an album that levitated their identities as individuals as well as merging them into one unit "We're each nding our own creative intuition," says Bex "..and then we come together...and we back eachother up" adds Lucy.

Just as the title suggests, Big Wows is both cynical and optimistic: dreaminess and pop dance rhythms are cut With eye rolling vocal styles in ected by heartfelt lyrical messages "We hit upon this conversational-style between the vocals and have alternating lead melodies. ere's a sarcastic tone to some of the music but there is always a strong wilfulness to incorporate honest integrity, which is hard to do but refreshing when it finally comes out."

Side one opens with a burst of shimmery synths as 'Show Love' and 'Back in Time' lead you heart rst into the headier feels of 'Jokin' Me' and upbeat bounce of 'Why haven't I?' following into the more progressive grooves for 'Girl' then fading out with the narcoleptic comforts of 'Just Dreaming'.

Side two digs deeper into a dreamworld, with the manias and hallucinations of 'Breathe' and 'True Colours' as well as the gorgeous disillusionment of the title track and ending with an unexpected tropical club banger 'Choose Like You'. Running through the whole record is a response to living in a tech era: "We wanted sounds to represent TVs, computers and everyday glitches" says Bex "We
started to have this feeling that life is like a game and how you can malfunction when you're blasted with too much information..."

As well as composing with traditional instrumentation they also started songs solely on the computer; sequencing, building sounds, drum machines and responding to that non-emotional binary world. " e big challenge," continues Bex "is making machines sound organic, emotional, nding their aws. at's why Delia Derbyshire is so important to us. All the effects that she uses serve to humanise the machines."

Since the release of their last album, 2015's surreal and fantastical 'Not Real', they've been in demand as multidisciplinary public artists as well as musicians – on projects including Wow Machine, which brings to life another more conceptual strand of 'Big Wows'; in a mechanical light up stage with dancers and live music. This summer they also performed at UK festivals with a 15 strong all-female procession to celebrate the centenary of Suffrage. "Being female has become more of a theme in our work" the band say. "It's obviously always been there but now we're playing with it more
conceptually and thinking about empowerment".

This greater confidence and rock-solid aesthetic mean that Stealing Sheep can take greater risks and reap more wonderful rewards. ey have a broad range of in uences – St Vincent, Michael Jackson, e Knife, Kraftwerk, Drake, Little Dragon – but they remain so resolutely and richly themselves. "We try new things out and we get more con dent about what we like." says Bex. " There's a really good thing Grayson Perry says about developing your creative intuition. You get to a level as an artist where you know on a gut level what you like and what you don't like. It takes a long time to feel comfortable in that place, to know your palette, to know you like these drum sounds or whatever it is."

Lucy is working with a full drum kit now instead of just toms, Emily is playing bass guitar, Bex is making her own synth patches and they're all using new equipment: they are developing and experimenting and moving forward together. "We wanted the machine sounds to be juxtaposed against a full kit and bass guitar, which we tracked live to feel intentionally loose in places. We like the idea of placing robotic tech next to real lifenergy."

The songs began at home or in their studio at Liverpool's Invisible Wind Factory, laying down the main body of the tracks, then the band worked with various producers – including Marta Salogni (Bjork, MIA, Factory Floor), Andy Smith (Years & Years), Ash Workman (Christine & e Queens, Metronomy) and Joe Wills (video artist for Little Dragon) – as they've tried out different mixes and ideas to convey
their messages. They also teamed up with 8bit video artist Pastle Castle (Emily Garner) from Leeds, who created a Karaoke video series for the whole album; exploring Stealing Sheep's digital dimension and their shifting identities amidst changing cultural moods and millennial paraphernalia. "It's a crazy time and it's challenging navigating through it, but it's like 'whatever' bring on
the BIG WOWS.'






Vice Reine


-from San Francisco, CA


Vice Reine is an SF electronic trio that melds synthpop, electroclash, & sci-fi into an exciting live show that starts the party right in a future gone wrong.

VICE REINE is a SF-based DYSTOPIAN DISCO PUNK PARTY BAND. With highly addictive synths, dark dank basslines, & sassy, defiant vox, system components Remi X (lead vox/synth), DJ EJ (bass/synth), & CJ DeMarx (synth/perc) start the party right in a future gone wrong.

Prismatic perpetration of the collective imagination: WE ARE VICE REINE.






El Elle


-from Oakland, CA




-EL ELLE is a solo music and artistic endeavor by Lisa Light, a LA/SF based musician. The project is designed to be realized simultaneously on a variety of media and levels, although it will always spring from the music compositions. The method is divining ongoing collaborations with other artists, dancers, and musicians to continually evolve the initial work into something ever more dimensional, layered, and inspiring. The Visual and Performative elements follow a unifying theme of 60's mod black and white mixed geometries, as well as Faux-Primitive Couture. The inspiration for this marriage is drawn from an interest in the total experience Mod Happenings of the Warhol persuasion, Bauhaus dance, The Tantrika Way, Italian New Wave Cinema, Platonic idealism, and a general love of natural and constructed symmetry.