Sunday April 5 2020
CLOSED
The RDGLDGRN show is being postponed and will be rescheduled for later this year, exact date as yet unknown. Your tickets will be transferred to the new date automatically unless you request a refund, which you can do at any time. Once it is rescheduled, we'll let you know the new date, and you'll again have the chance at that time to request a refund if you cannot make the new date.


Sunday April 5 2020

8:00PM

doors -- music at 8:30PM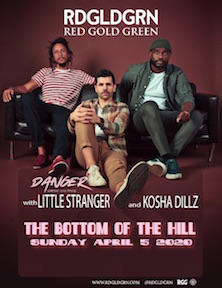 ••• ALL AGES
$
15

in advance

/ $18

at the door
Danger Tour
RDGLDGRN
www.rdgldgrn.com/
Hip-Hop, Alternative, World
Little Stranger
littlestrangermusic.com/
Alternative/Hip Hop
Kosha Dillz
koshadillzworld.com/
user friendly/gangster/alternative/hip hop
---

RDGLDGRN


-from Washington, DC


-With a distinctive Go-Go drumbeat native to Washington D.C. serving as the backbone, RDGLDGRN (pronounced RDGLDGRN) takes hip-hop infused punk and indie rock and forges a new sound that is both deeply rooted in DC's sonic landscape, and transcends it.

Comprised of three members who identify as Red, Gold, and Green, RDGLDGRN began making music in their basement studio, drawing from a diverse pool of influences like Bob Marley, The Beatles, Chuck Brown, Vampire Weekend, Outkast, The Neptunes, and Bad Brains. The result, as HipHopDX put it, is band that melds both rap and rock "without falling short of either."

RDGLDGRN initially gained widespread recognition after self-releasing the song, "I Love Lamp," on YouTube, amassing over 100,000 views over just a few weeks and winning the attention of notable industry figures and tastemakers, including renowned producer Kevin Augunas, who signed the group to Fairfax Recordings and produced their debut album.

Recording that album would find them collaborating at length Dave Grohl, who not only shares a hometown with the group, but who decades before had recorded "Nevermind" with Nirvana in the same Sound City Studio where he would provide the drums for the entire RDGLDGRN LP.

The band also collaborated with the legendary genre-bending artist, producer, and designer, Pharrell Williams, who co-wrote and co-produced the standout track "Doing the Most," which showcases the breadth of the group's capabilities and their willingness to defy convention.

Along the way, RDGLDGRN have established themselves as a must-see live act, delivering eclectic and high-energy performances alongside Outkast, The Killers, Talib Kweli, 311 and AWOLNation. They've performed across the United States and Europe, playing the Irving Plaza in NYC, El Rey Theater in Los Angeles, Merriwether Post Pavilion in Maryland, Alexandra Palace in London, and Berlin Arena in Germany, as well as selling out U-Street Music Hall in front of their hometown DC crowd.

RDGLDGRN's upcoming album promises an evolution in their sound as the group suffuses its genre-bending musicality with a sly wit, honesty, and truly global worldview. With their first single, "No Pixar," RDGLDGRN confronts the trials of forging their own path and establishing their own sense of identity and morality—a move that not only has The Source calling RDGLDGRN "the rap game's Disney," but signals the band's willingness to step into the void. Not content to be the product of their myriad influences, RDGLDGRN continues to stake their claim as the new musical vanguard.





Little Stranger
John Shields
Kevin Shields
-from Charleston, SC
-Born and raised in Philly, crash landed in Charleston, Kevin and John Shields are breaking into previously uncharted waters with their quirky indie hip-hop group, Little Stranger. Between John's melodic singer-songwriter magnetism, Kevin's in-your-face delivery, and an overall undeniable groove, this duo is sure to get any audience up and moving. Stylistically similar to the Gorillaz but with a loose reggae beat, every track brings the uniqueness and strangeness that their name implies.

Kevin and John Shields bring years of experience to the table. Throughout the course of their careers, they've opened for artists like Slightly Stoopid, Papadosio, B.O.B., The Movement and Del the Funkee Homosapien.

After their inception in 2016, Little Stranger was named "Hip Hop Artist of the Year" in 2016 and 2017, and listed jointly as "17 People to Watch in 2017" in the indie Charleston blog "Out of the Woodwork". They've since toured all across the continental United States, constantly growing their fanbase along the way. With an ever increasing arsenal of new tunes, Little Stranger is poised to make 2020 another off the backboard slam dunk.





Kosha Dillz


-from New Jersey to LA to Israel


-Kosha Dillz is a man who knows no boundaries. Born Rami Matan Even-Esh to Israeli Parents, he led a life of crime and addiction after a life of sports and competition, only to return to his craft of hip hop as an artist who was proud to represent who he truly is. Best described as a mix of influences from the Beastie Boys to Matisyahu and Wu Tang Clan, he can be compared to acts like Macklemore, Lil Dicky and Mac Miller with a hint of more culture and realism. His ability to intertwine with reggae and rock acts to hard core rap acts has earned him spots on the legendary Vans Warped Tour as well as his own solo headlining tours across America. He is best known for his uncanny free styling ability and ability to rap in Spanish hebrew English and even Yiddish.

His most recent album What I do all Day and Pickle charted on 6 different Billboard charts in August of 2016. He has toured the world with Matisyahu and performed with the most current acts from Wiz Khalifa , Travis Scott, Lil Dicky, Anderson Paak and more.